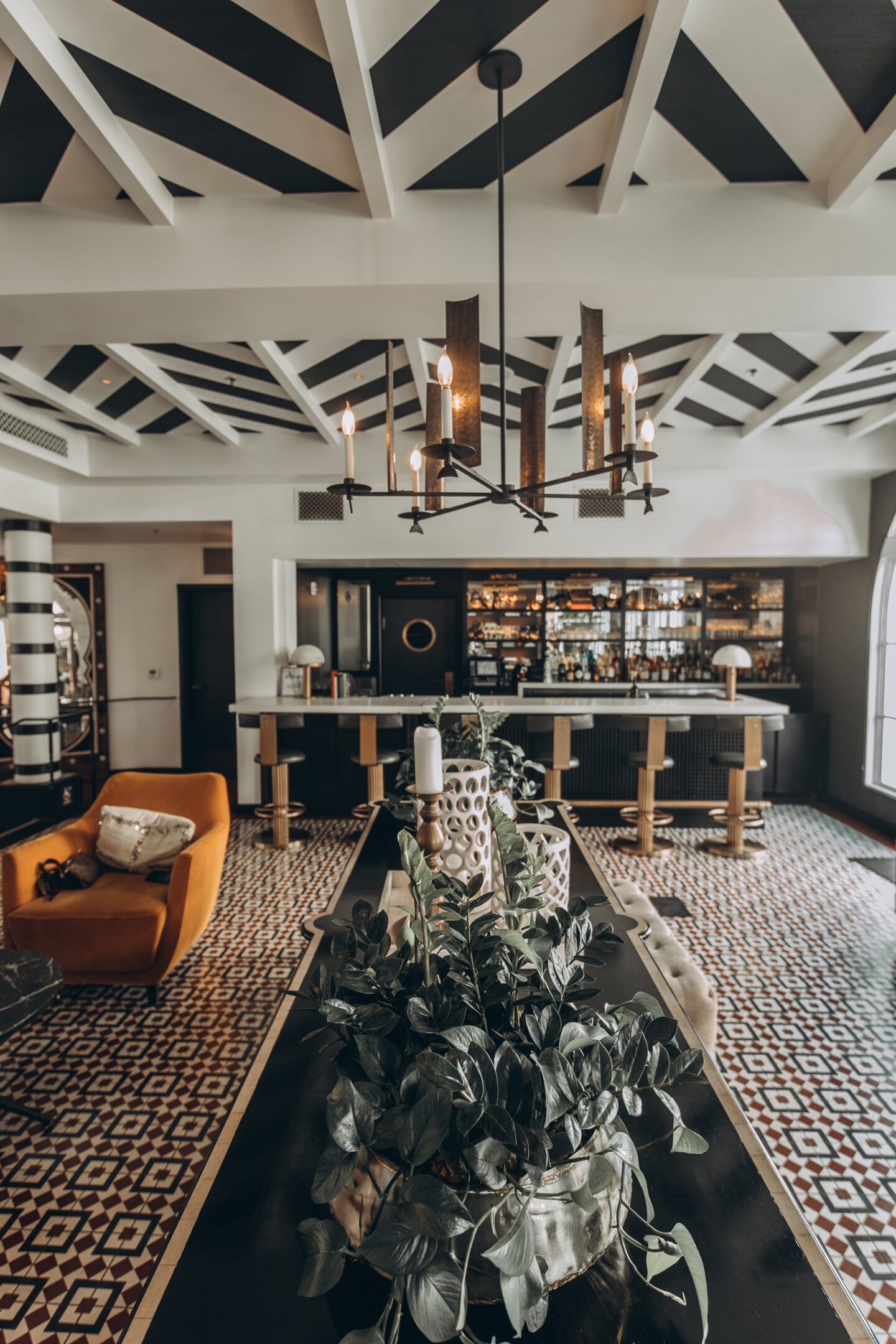 For my birthday I knew I wanted to do a little getaway. It's been a tradition now to travel during that time of year but since we are still being careful we decided to do a staycation instead. Santa Barbara has always been a favorite of ours so I thought it would be nice to spend a few days here to celebrate. We stayed at Hotel Californian which is right in the heart of things in Santa Barbara and close to the beach. I saw how beautiful it was online and just KNEW we had to stay here.
THE PROPERTY
Hotel Californian as I mentioned is in the heart of Santa Barbara. It is literally walking or biking distance to basically anywhere you would want to go. It's surrounded by tons of delicious food spots, the Funk Zone just a couple blocks away, and the beach. If you're looking for a relaxing stay this may not be the place. There is a lot going on around the hotel at all times and it definitely gives you the vibes of exploring rather than relaxing. I will say that it is nice that even though it was busy all around the hotel, inside the hotel always felt calm and quieter then the busy streets so it was kind of like having a little oasis in the chaos.
The property is split between buildings so we had to cross the street to enjoy the pool from our room and as I mentioned its right in the thick of things so I didn't love that fact. It's not a far walk at all so it's not a huge deal but its all about preference. The main lobby is absolutely stunning and there is a beautiful courtyard behind it you can relax and read a book/people watch. I was totally in love with the Moroccan inspired decor. The hotel interior and outdoor spaces are designed impeccably.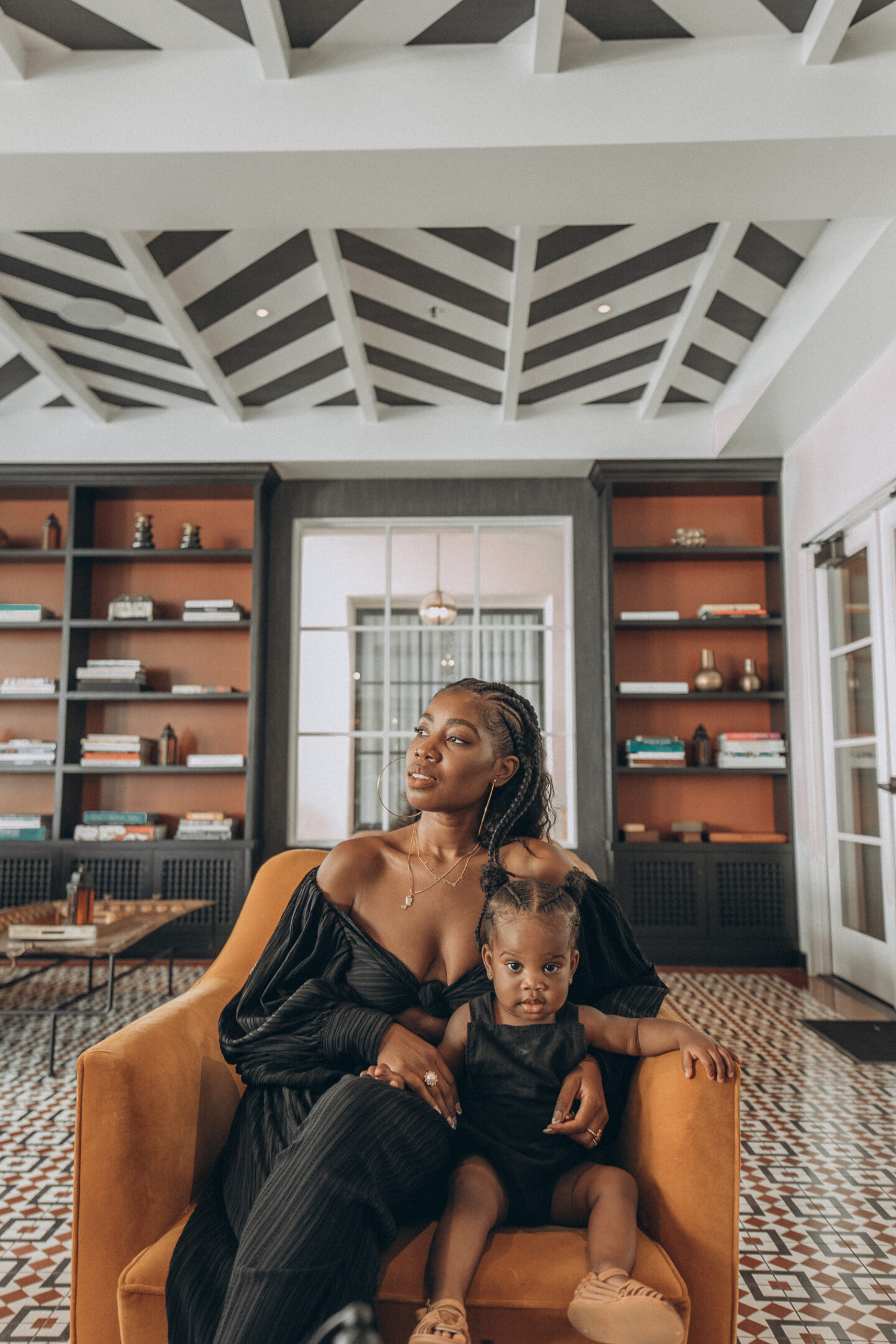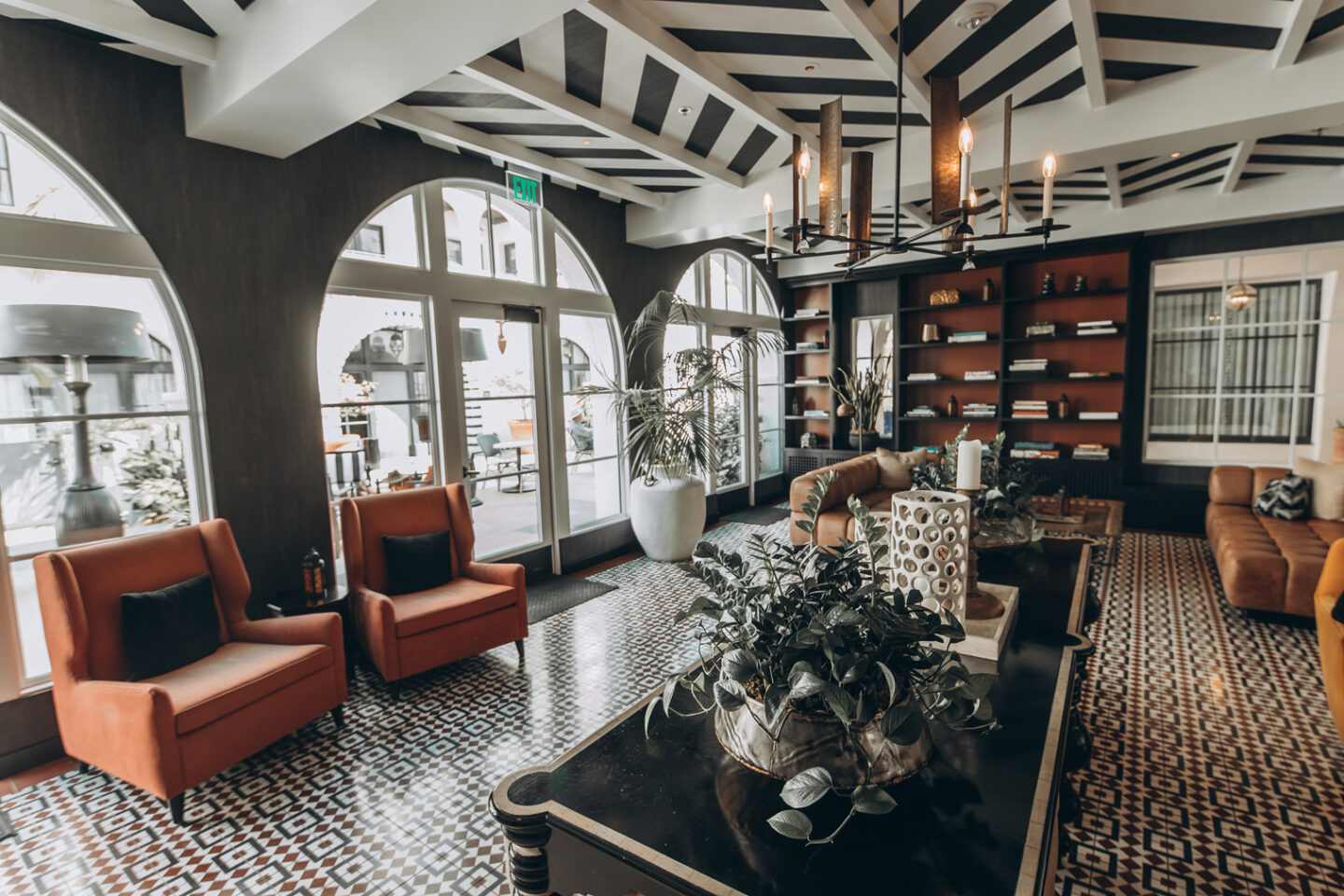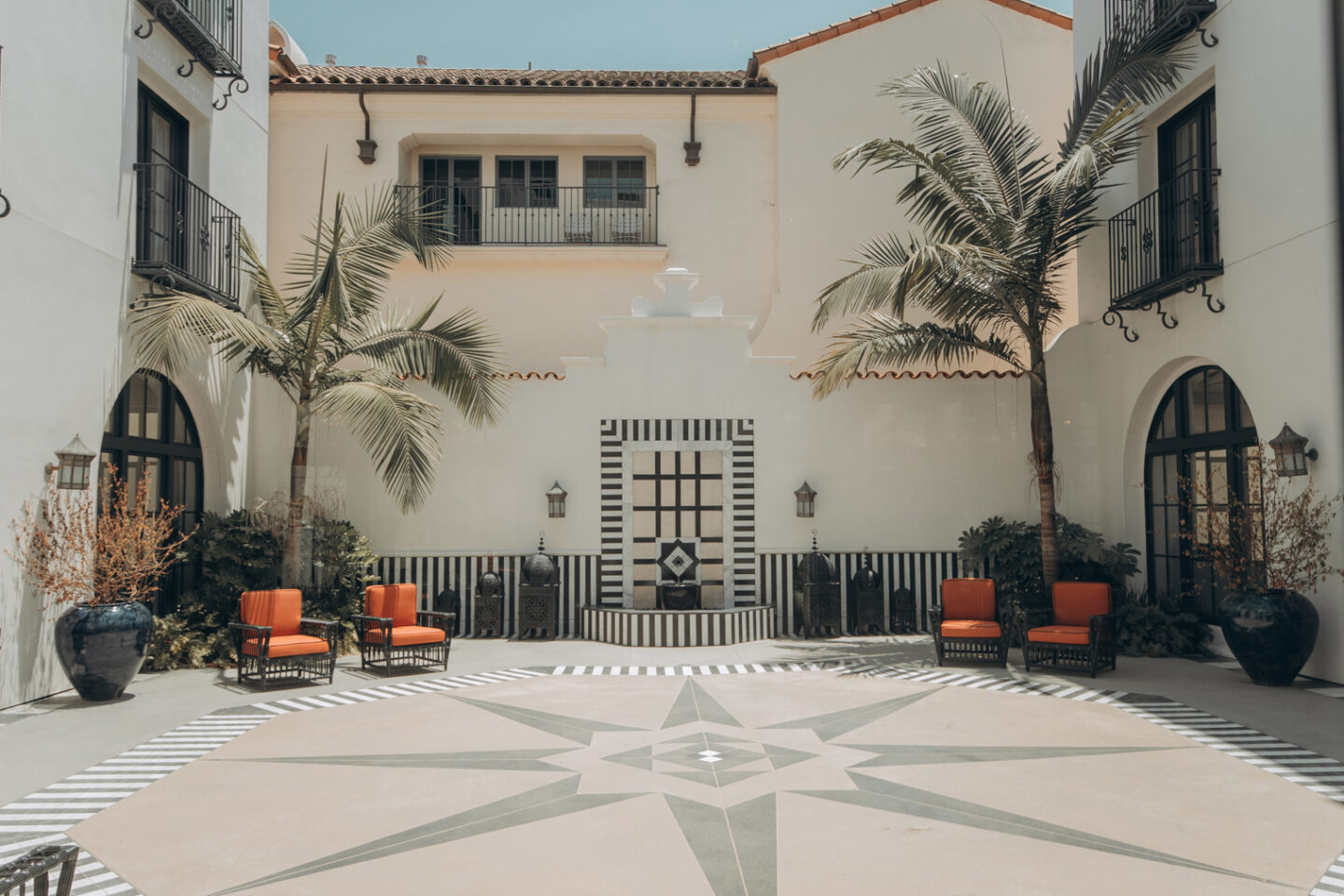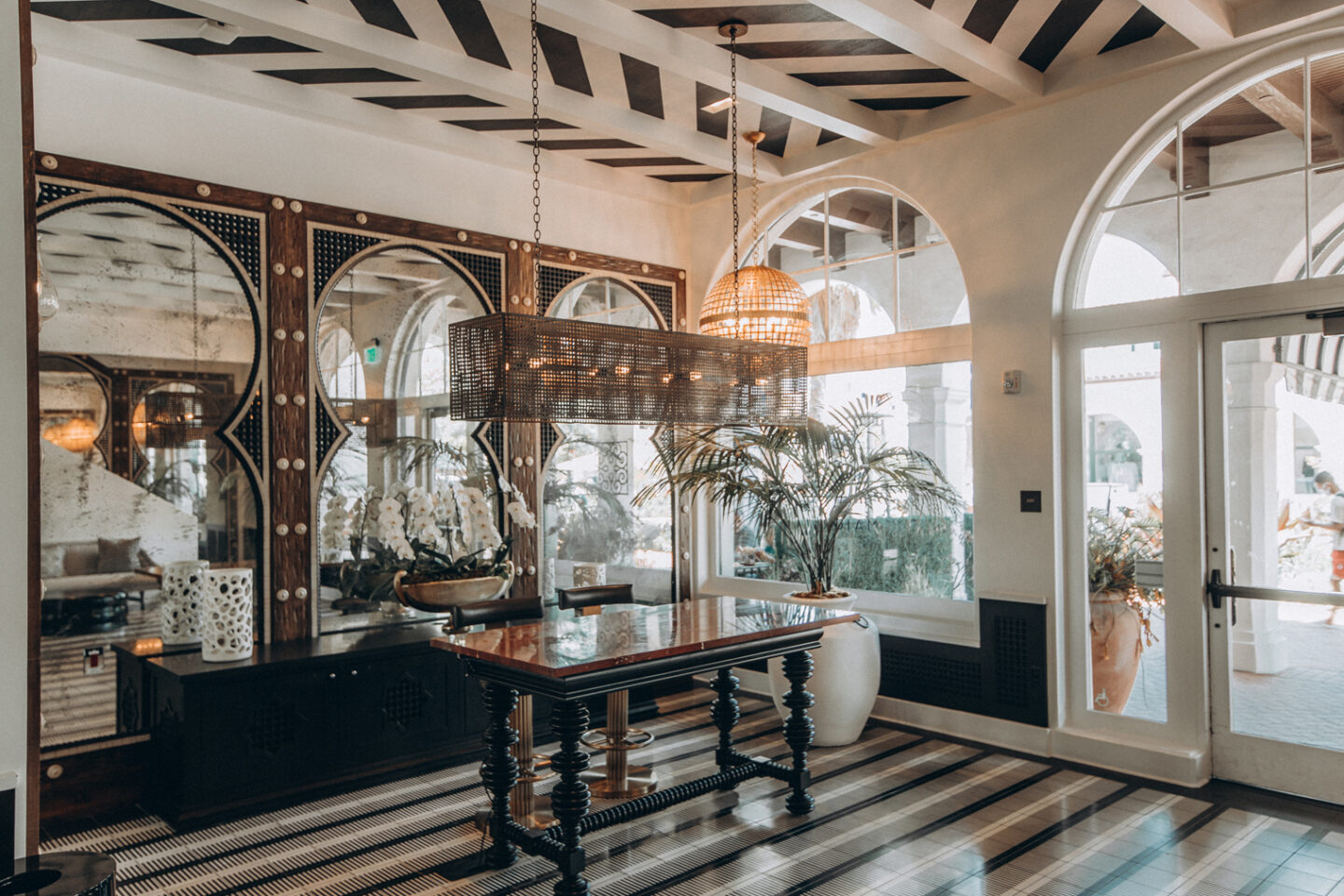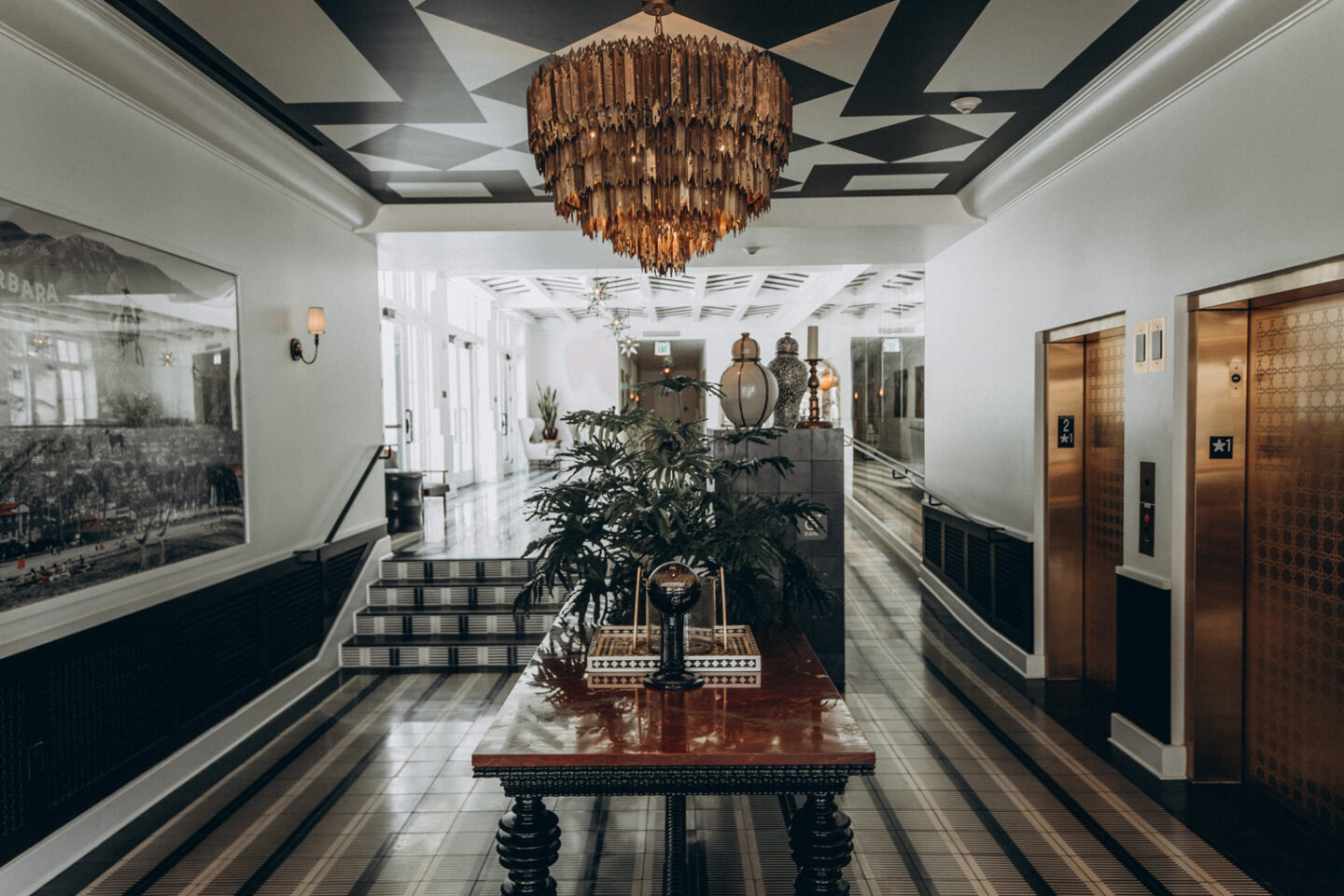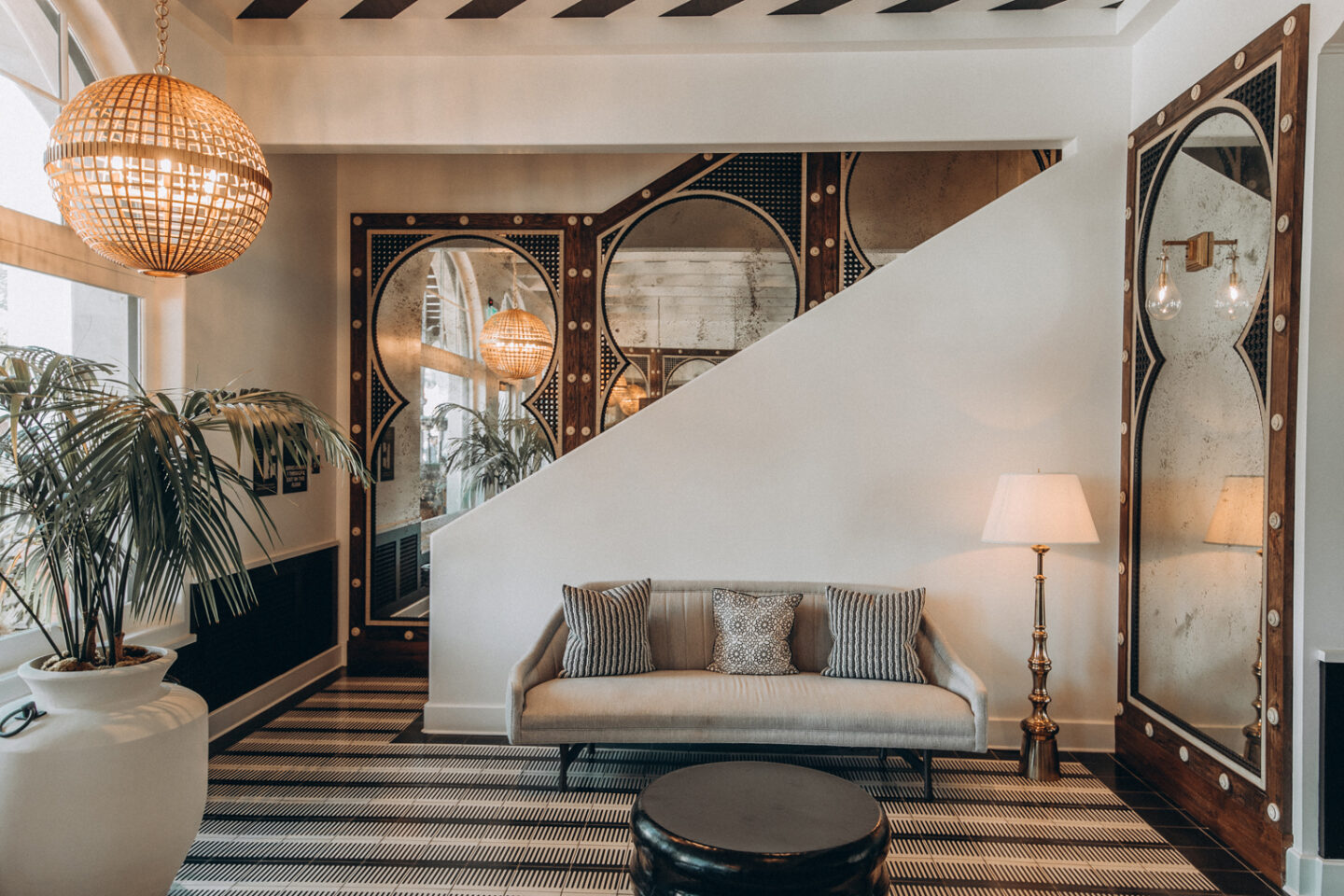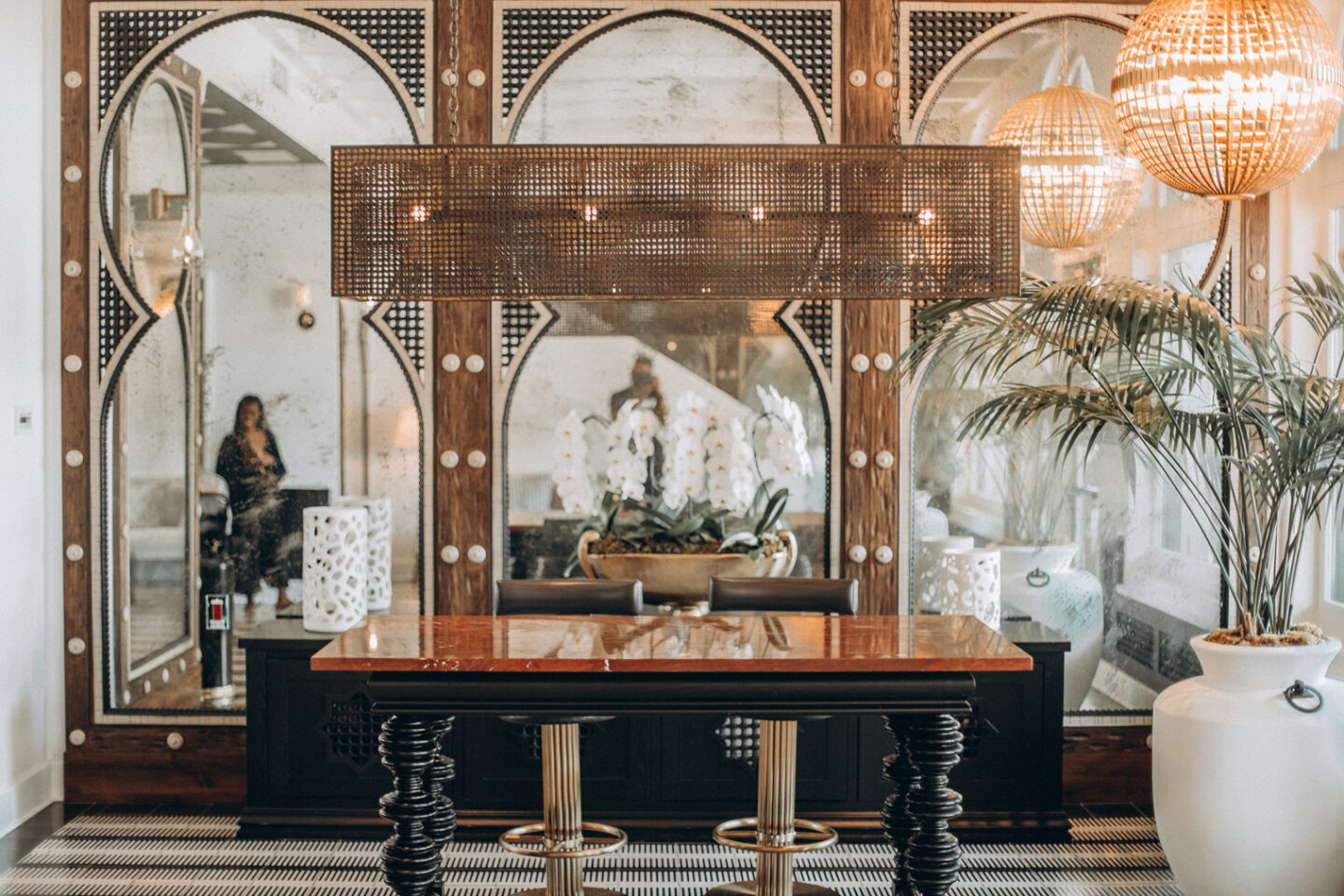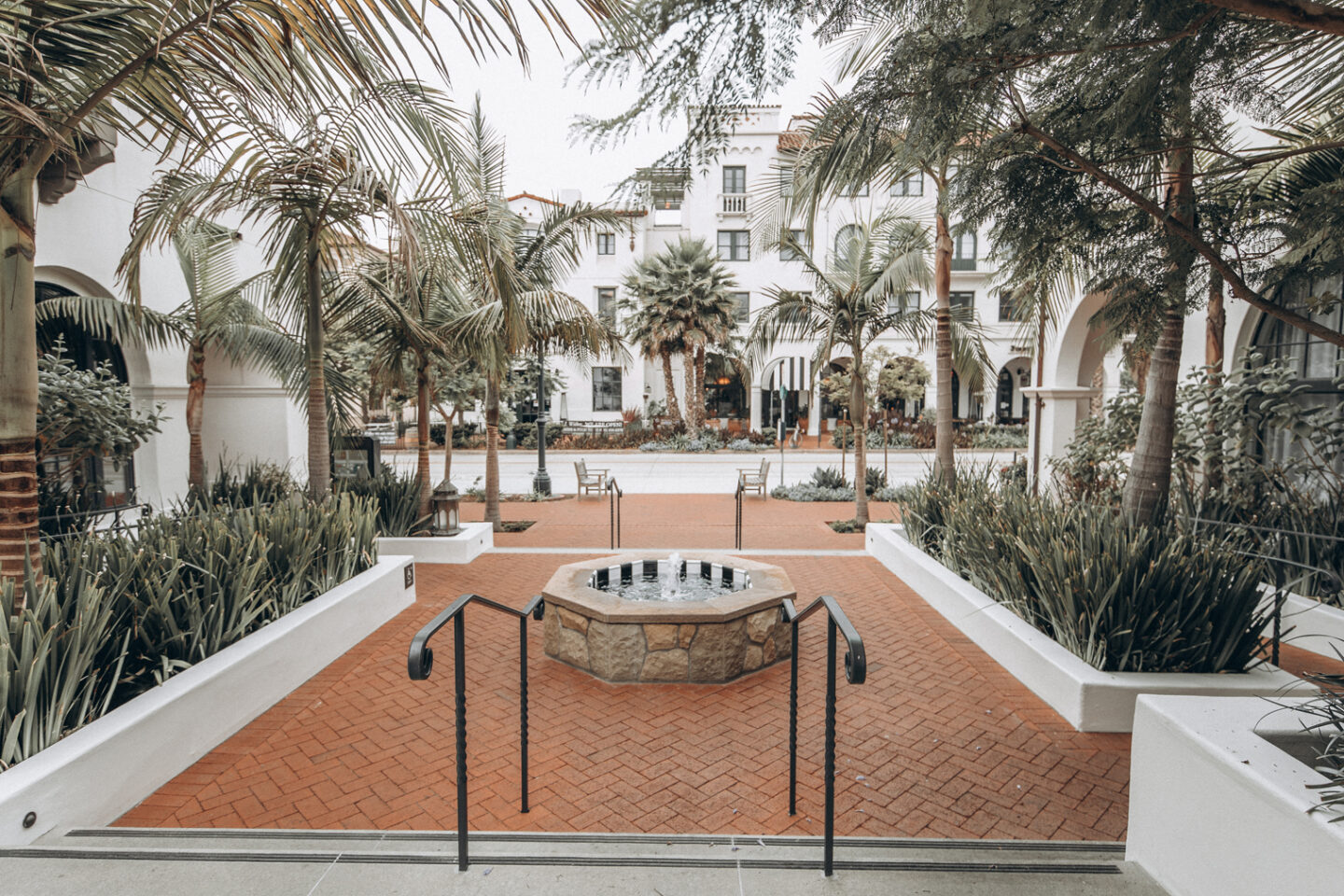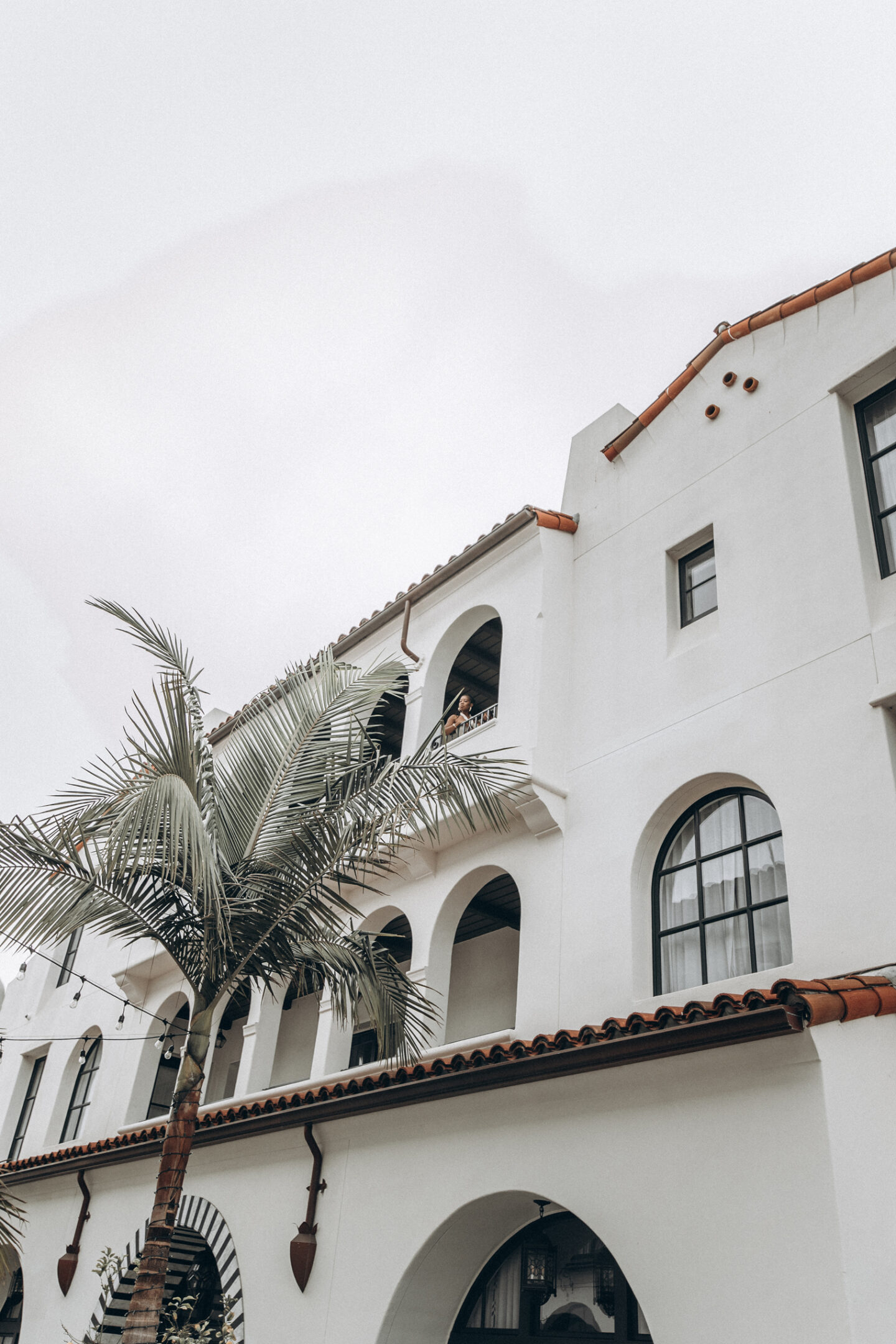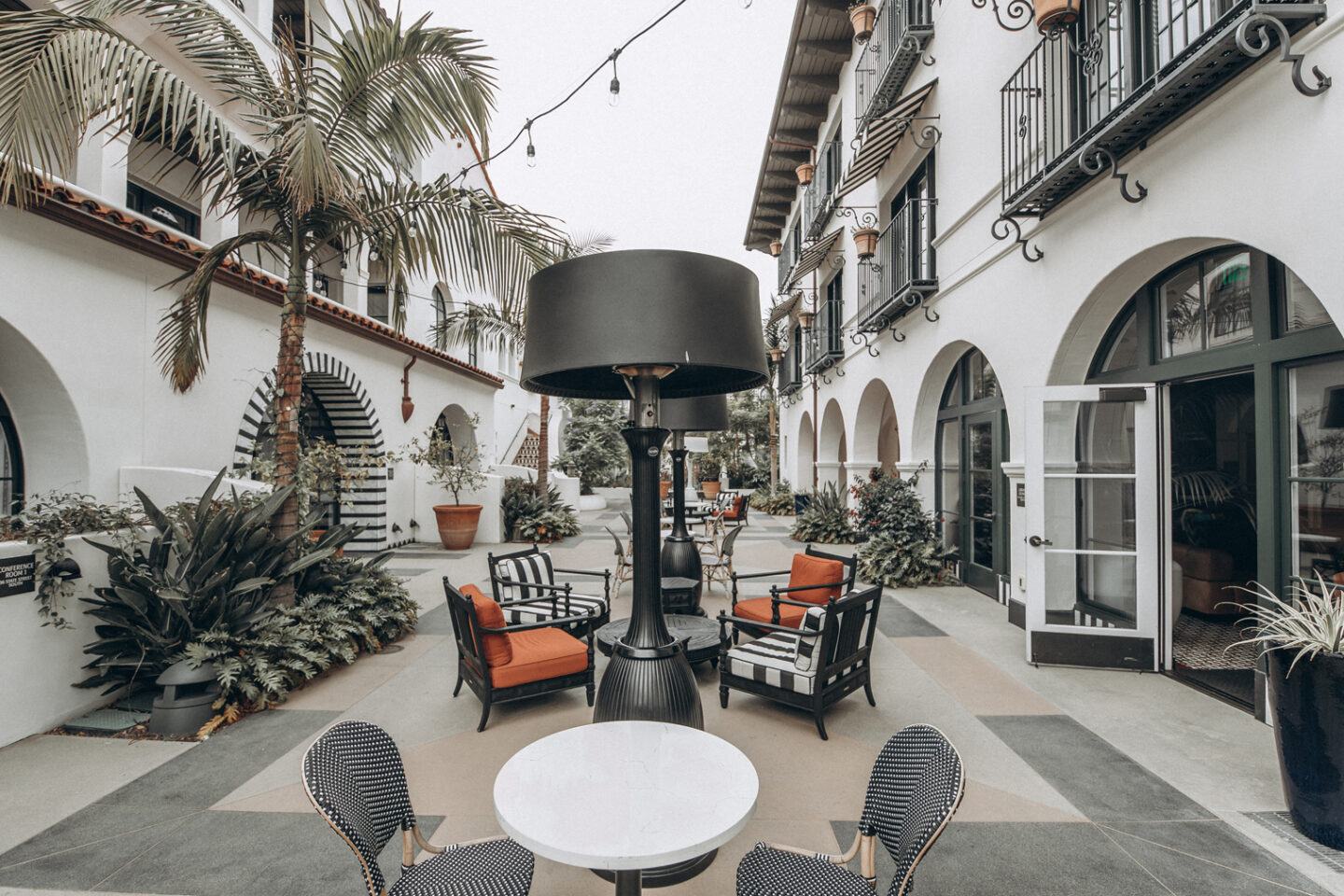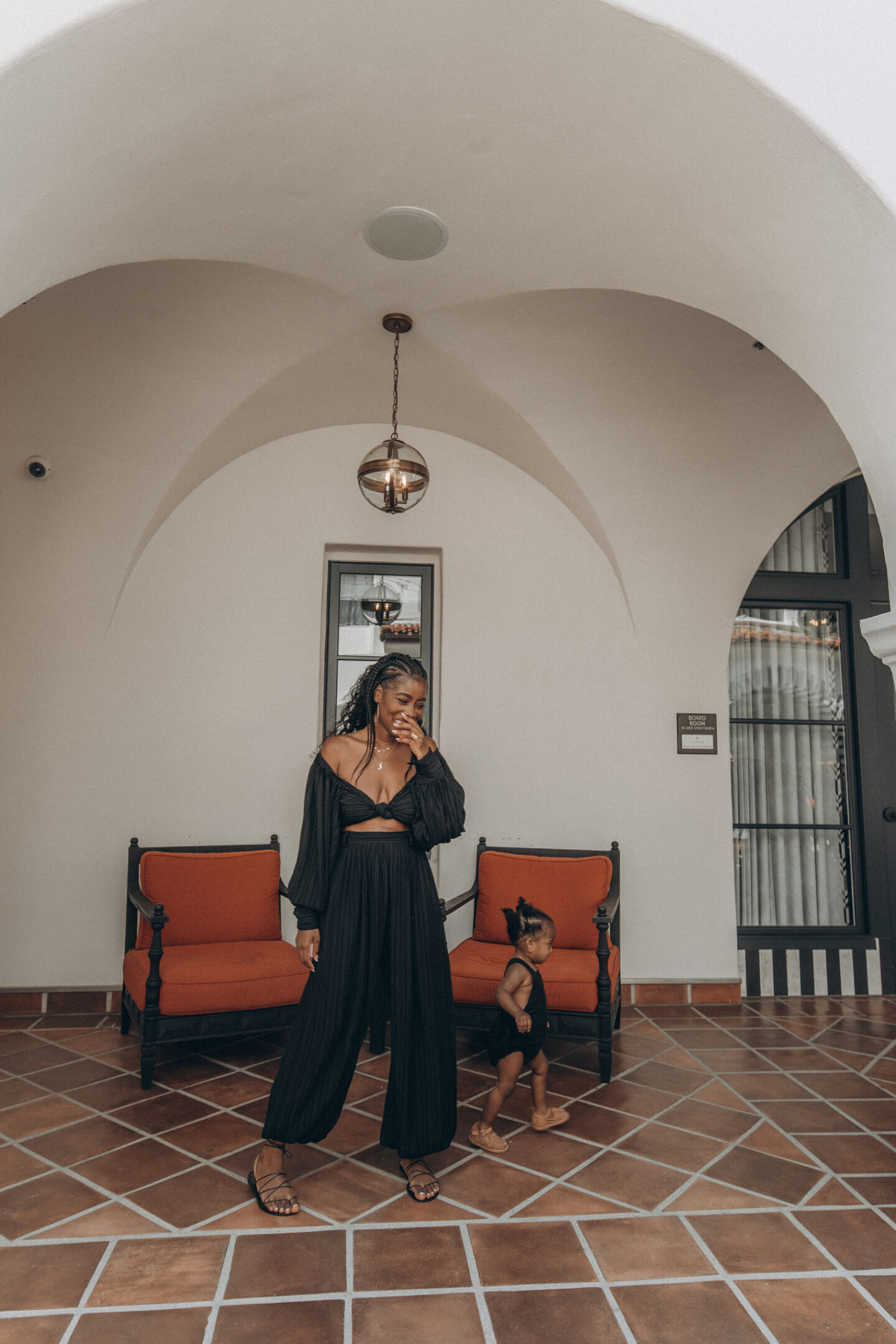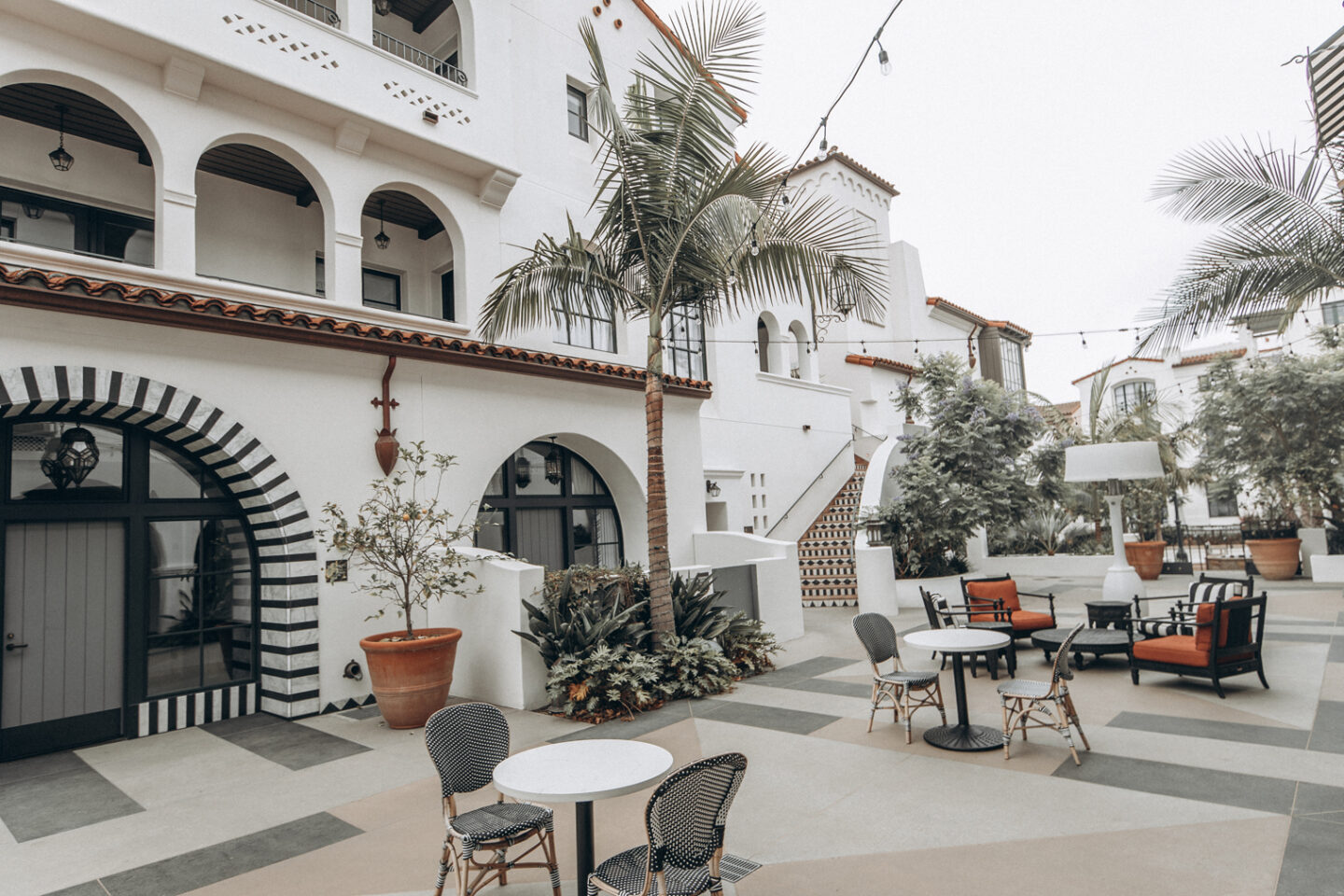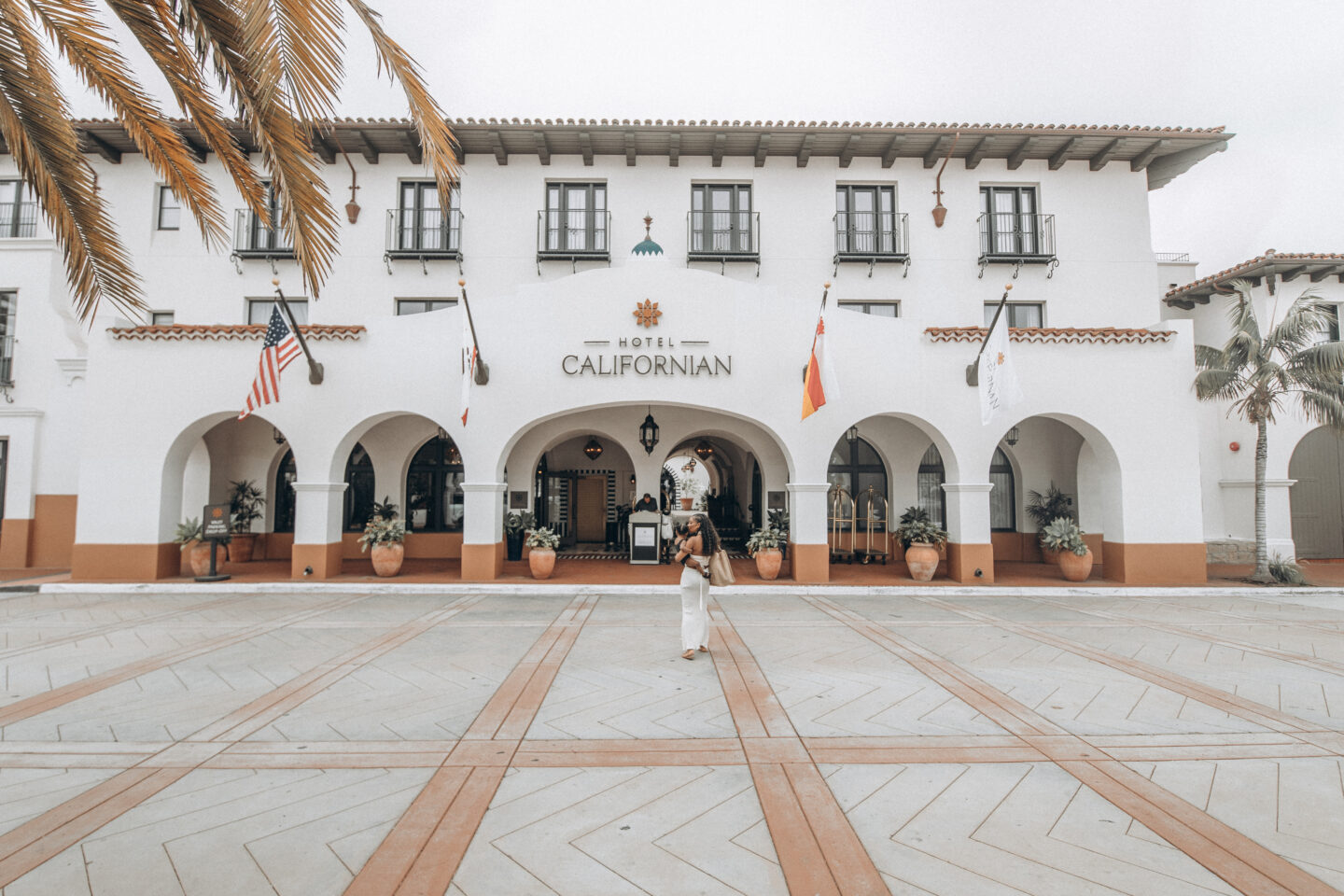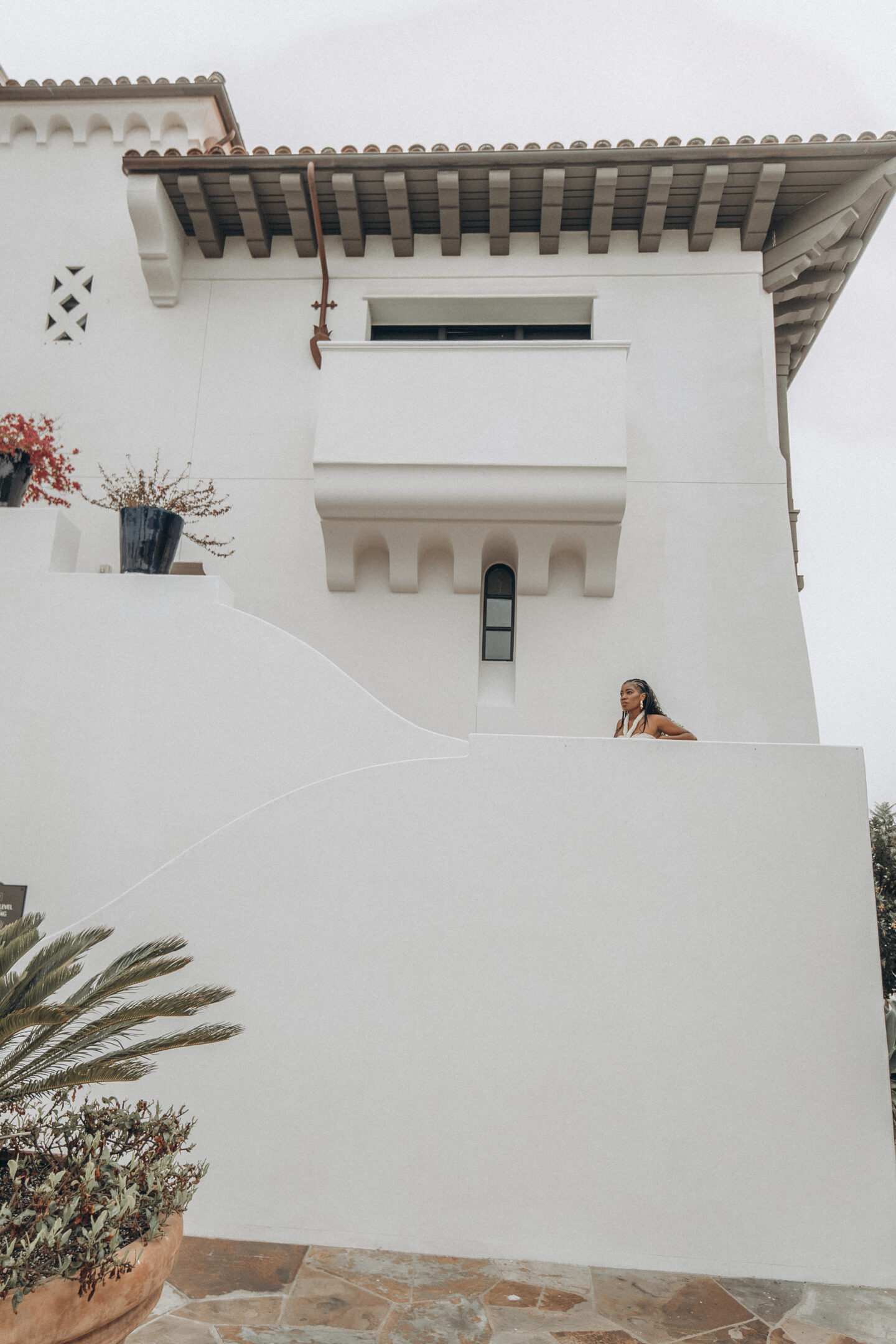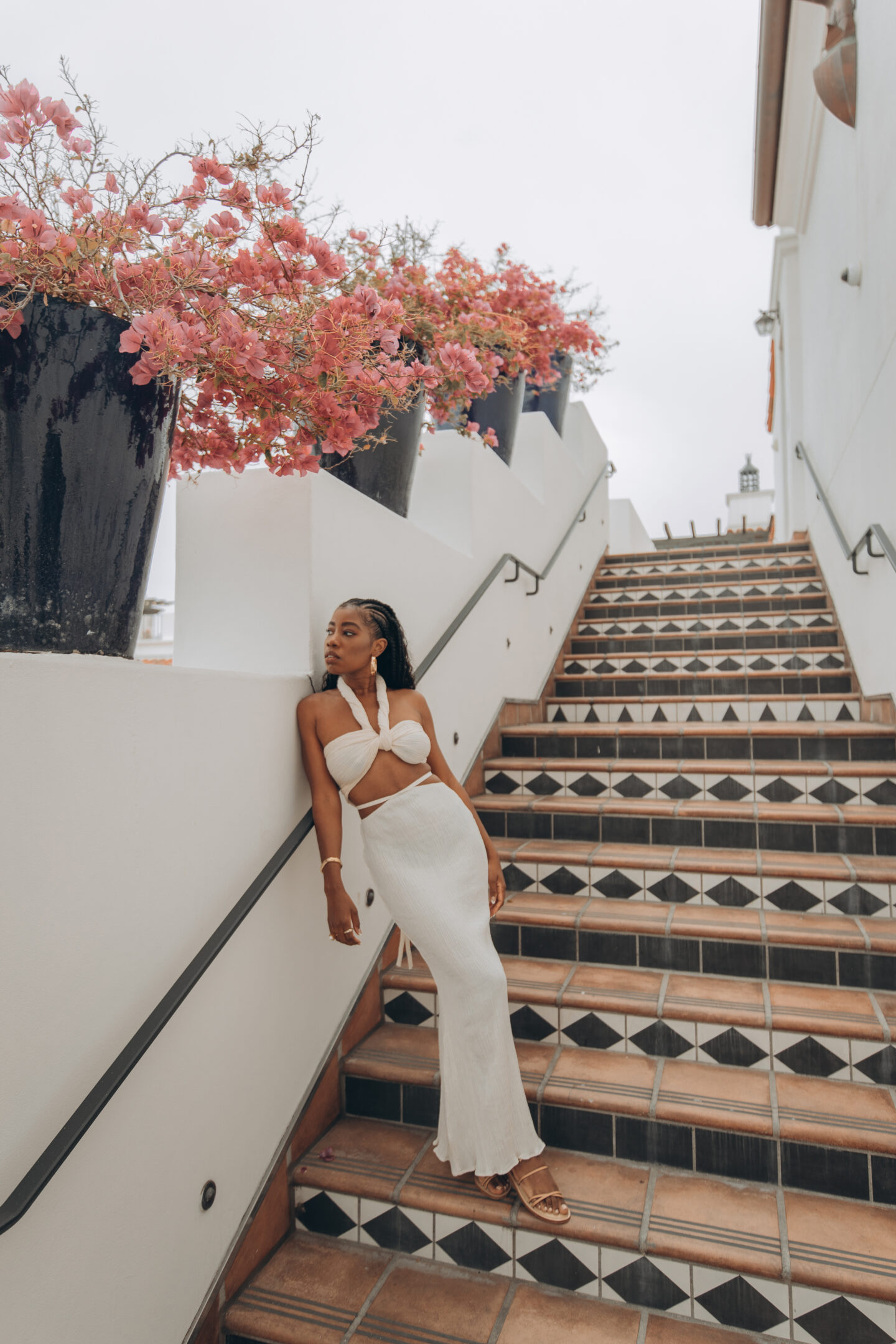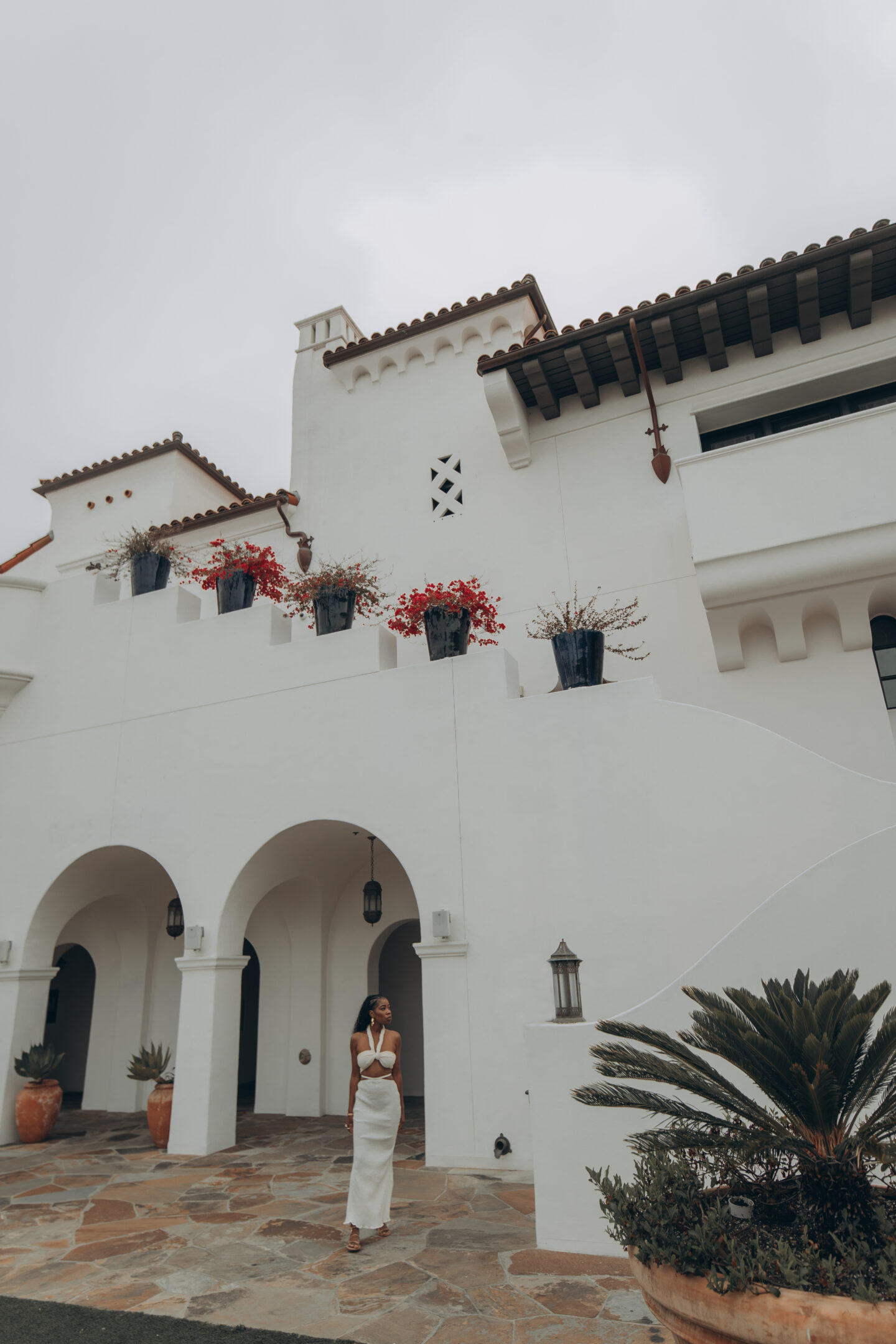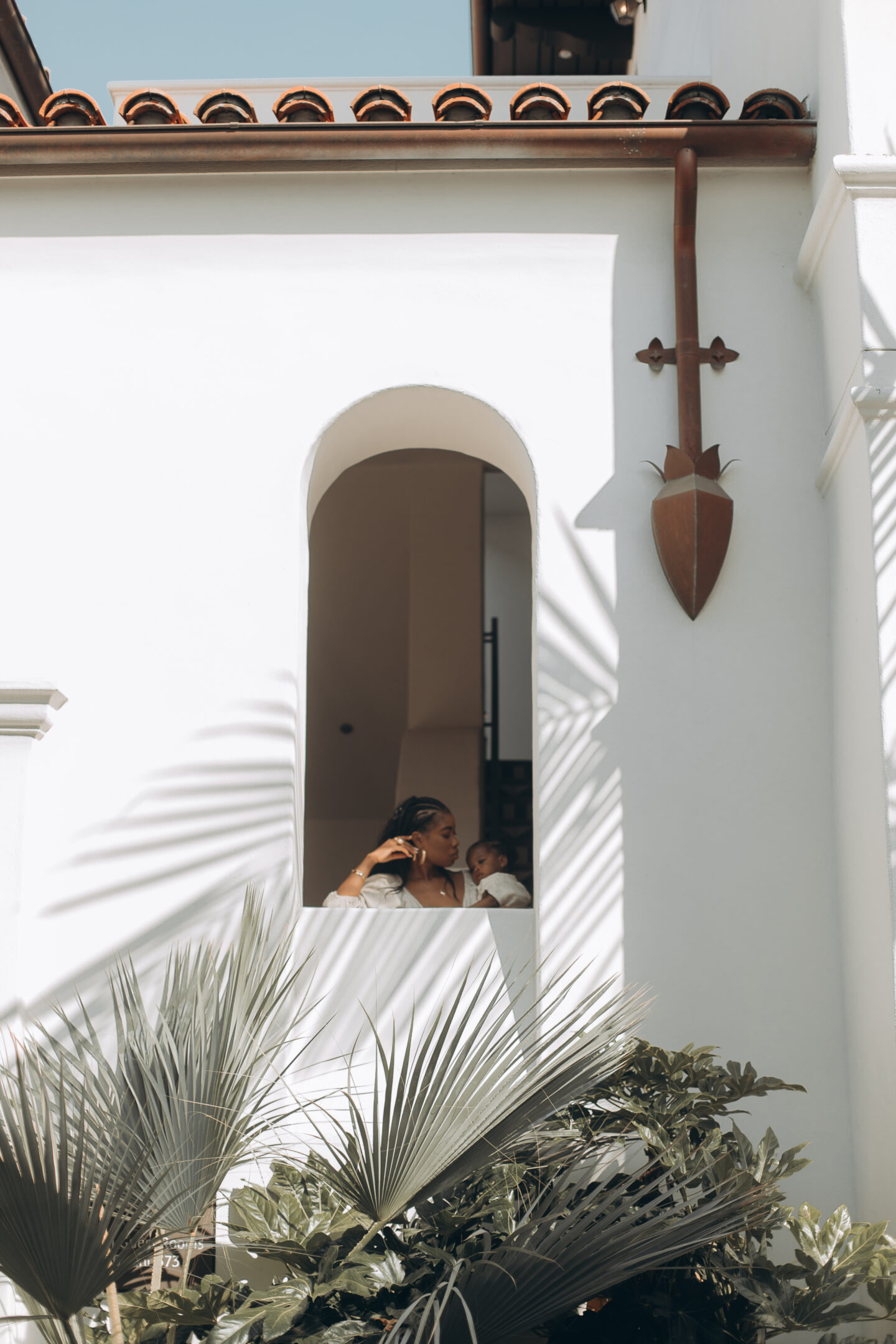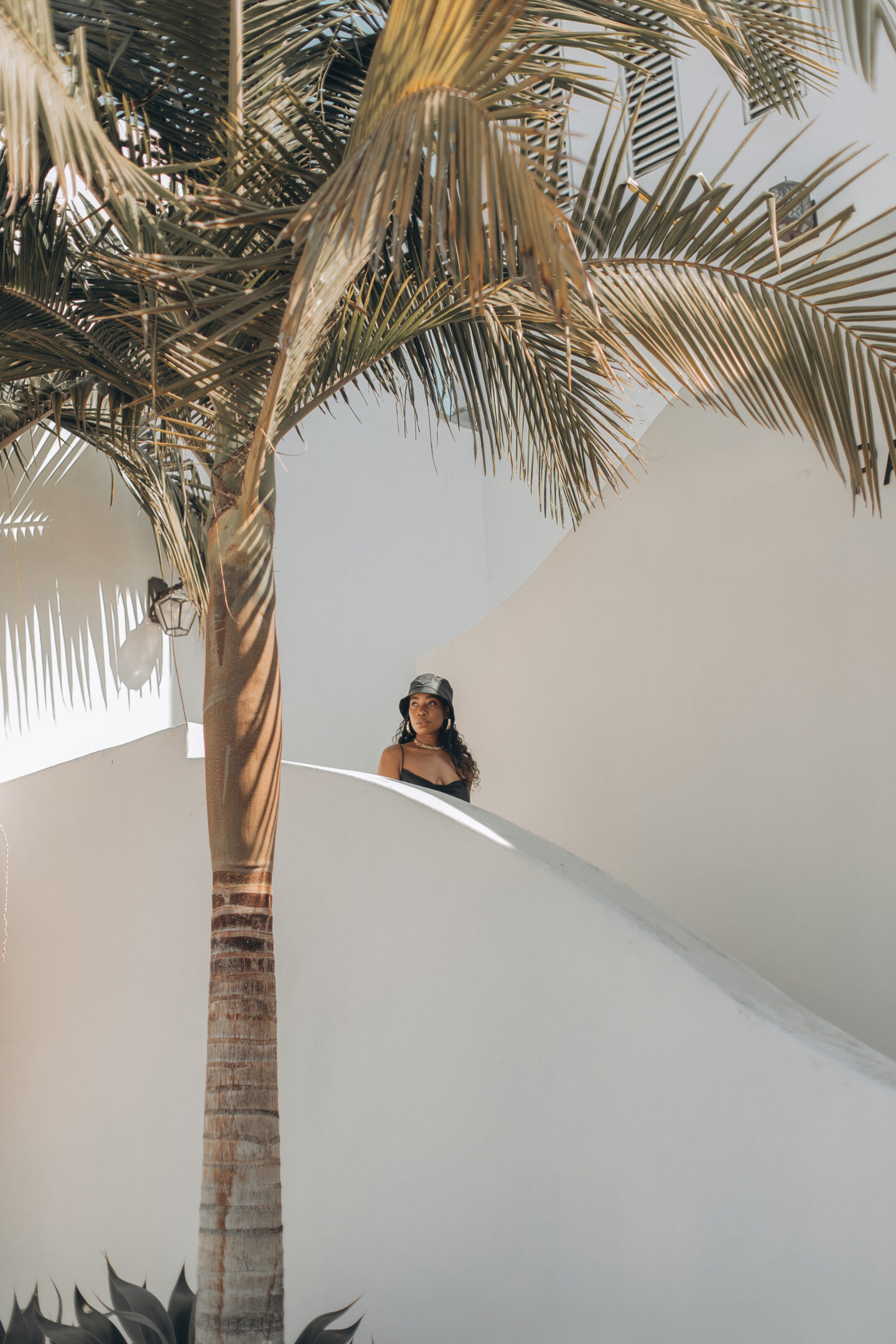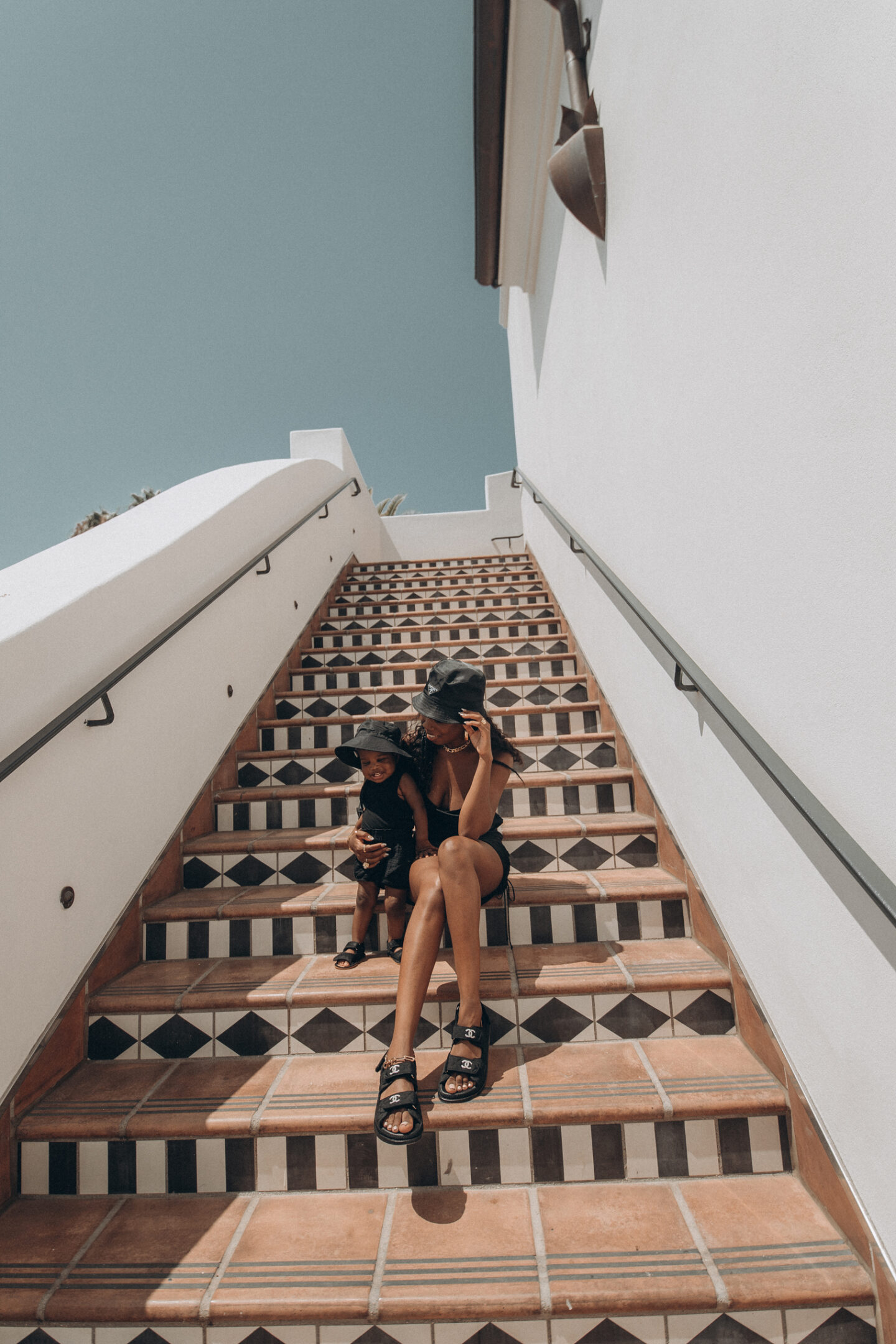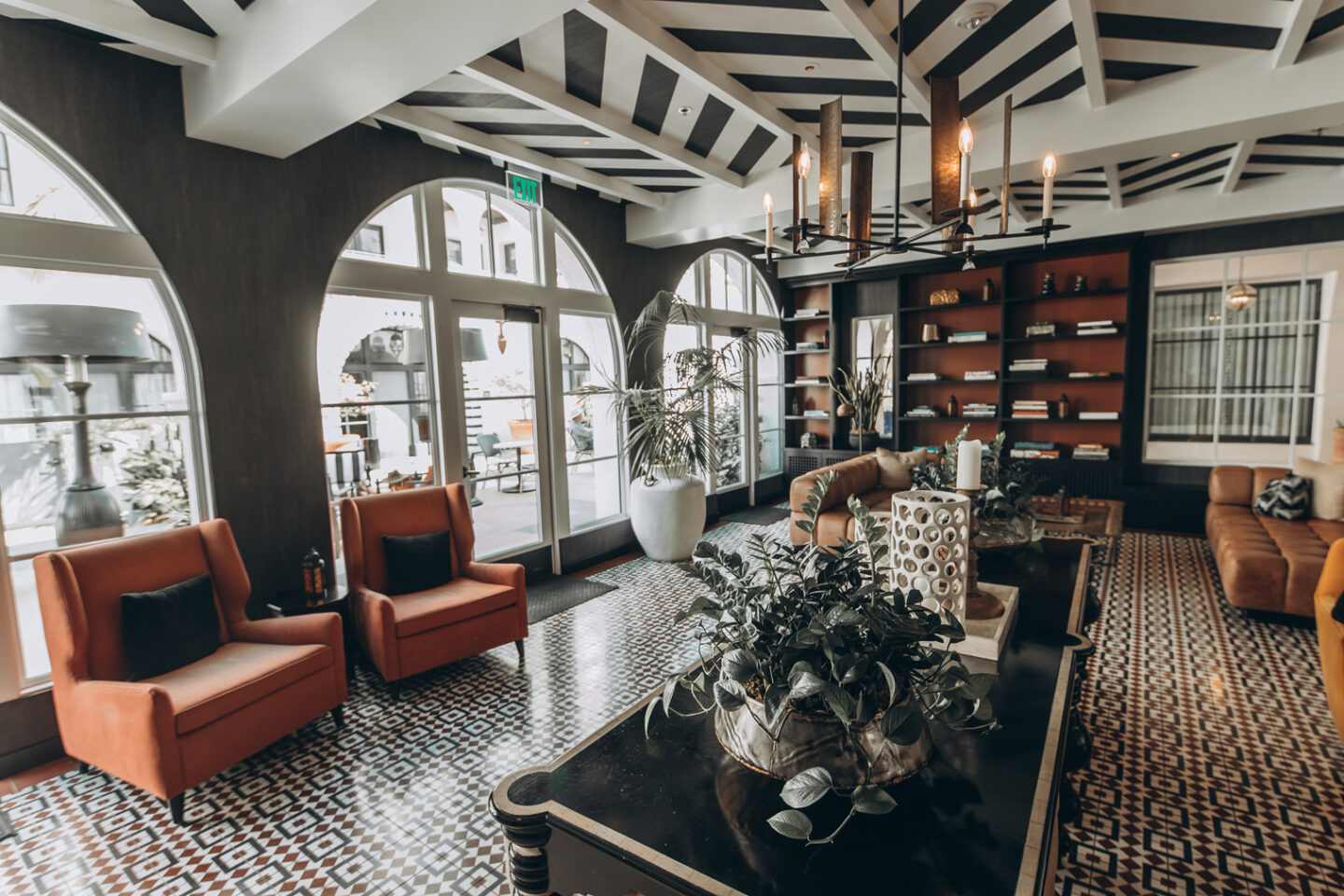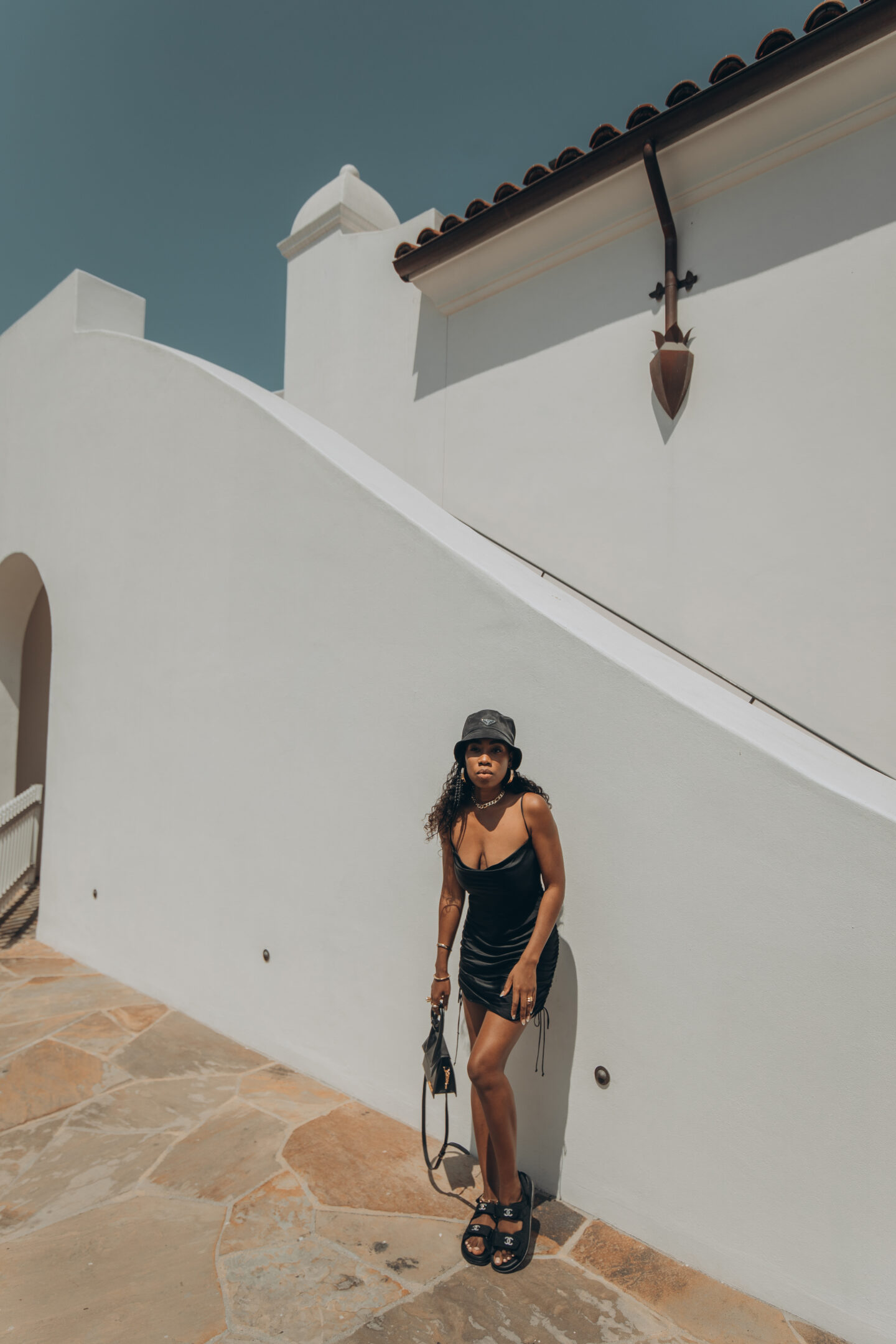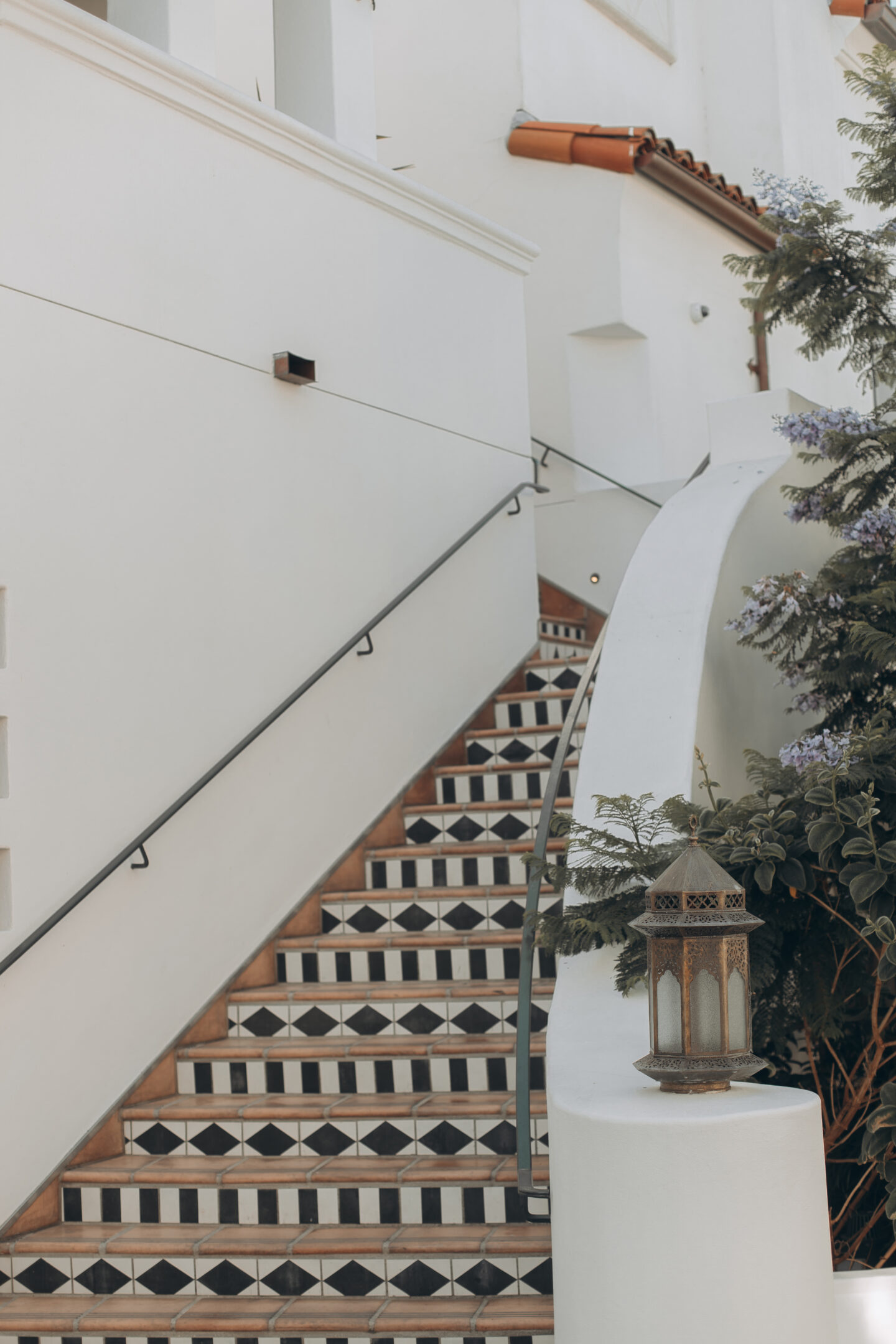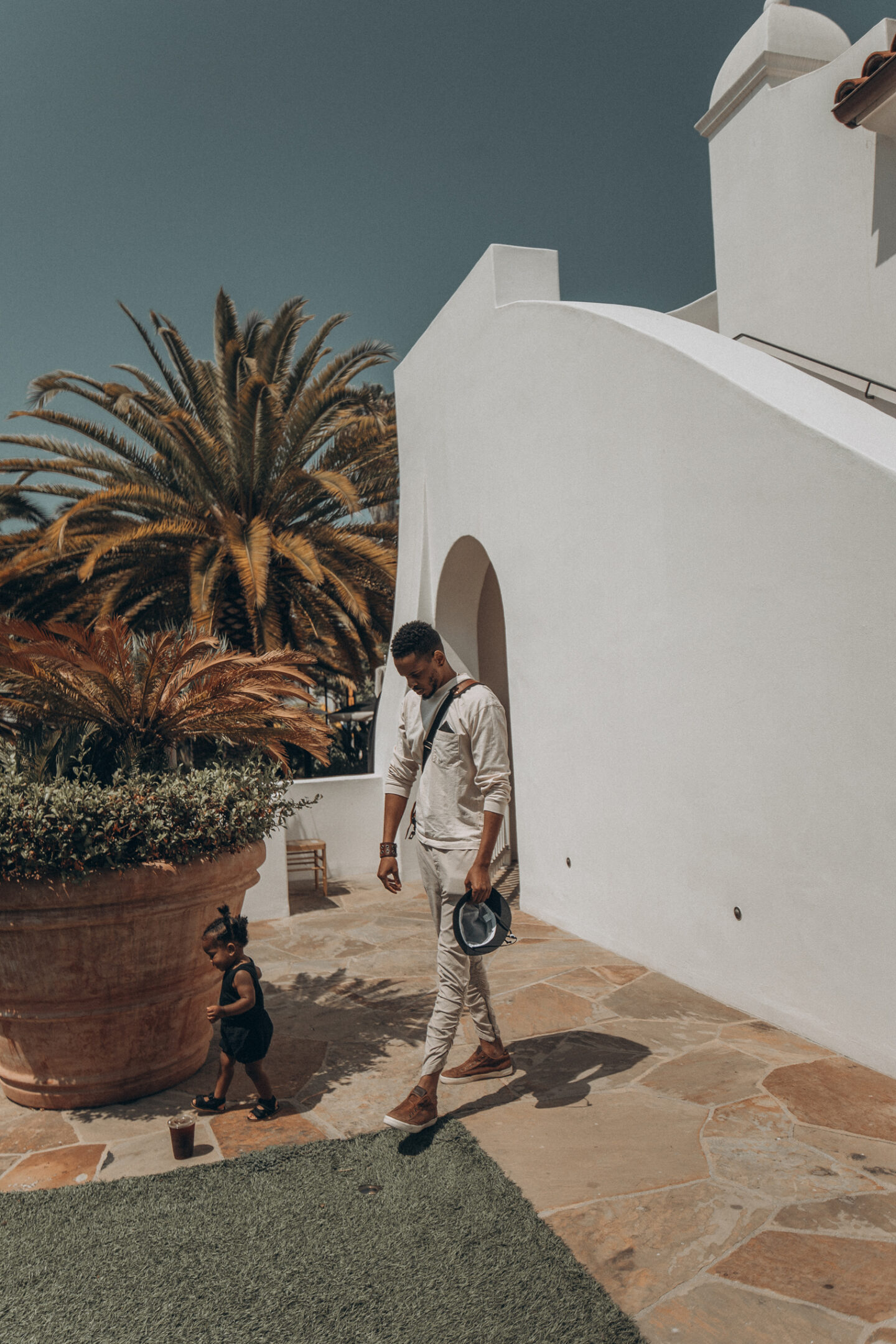 THE ROOM
Our room was in the main building where the lobby is located. It was the perfect size and so delightfully decorated. We had a king size bed and a cute little balcony that overlooked the courtyard below. I just love all the arches in the architecture. The bathroom was also very cute and well designed but it's the second time we got caught with a 1 year old and only a stand up shower. Next time I have to remember to ask for a bath. If you're looking to book, I would ask before hand. They have in-room dining from The Goat Tree restaurant on site which is a nice option. We ordered from Postmates one night and it was a breeze. With so many amazing restaurant nearby, ordering in is a very viable option. They welcomed us in our room with champagne and macarons and a cute little note. I love special touches like that when checking into a hotel. They also accommodated us with a little crib for London which was nice. We did have to wait right until 4pm to check in as they were busy so if you're staying there in the summer early check in may not be an option so keep that in mind. The nice part is there is lots to do around while you wait.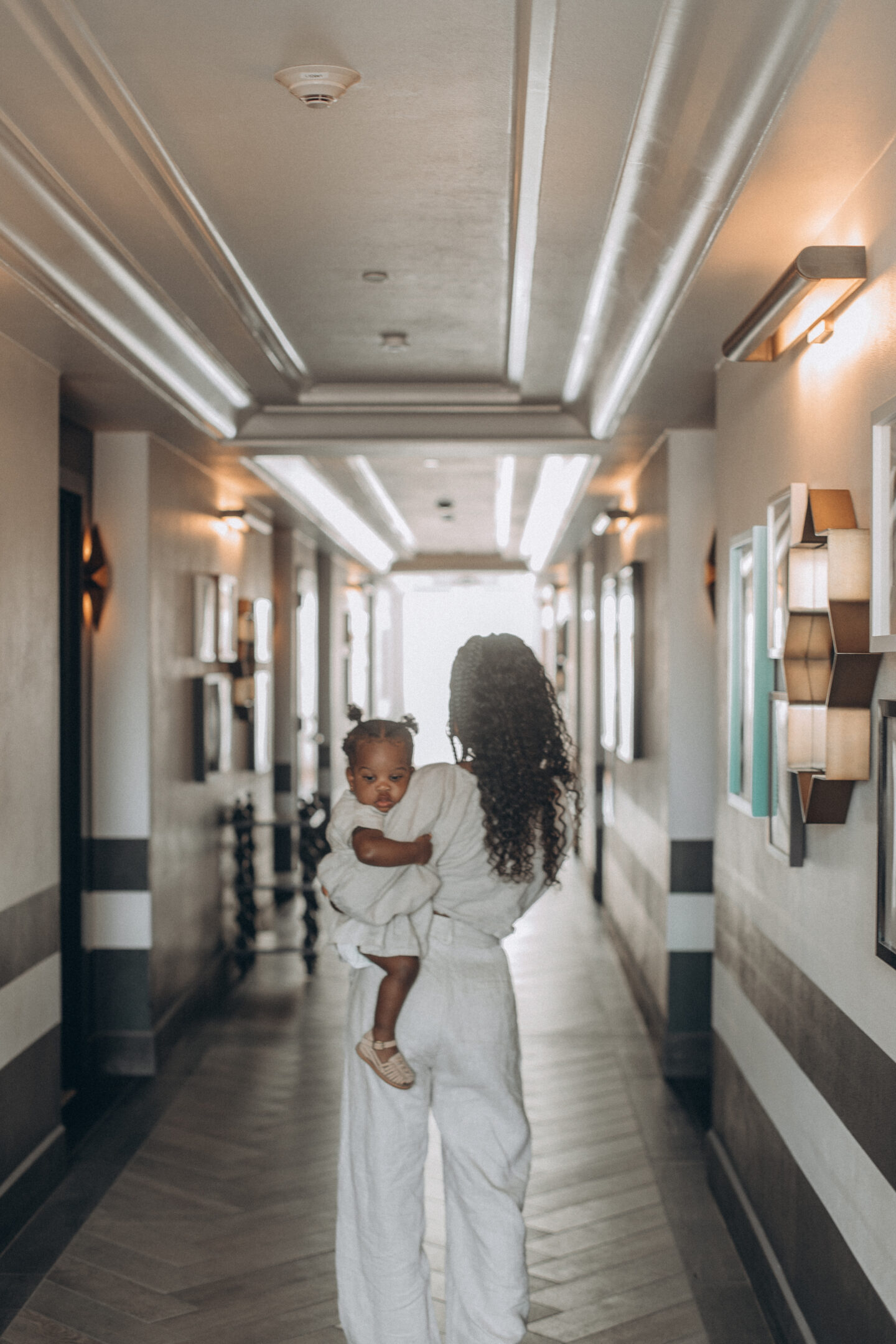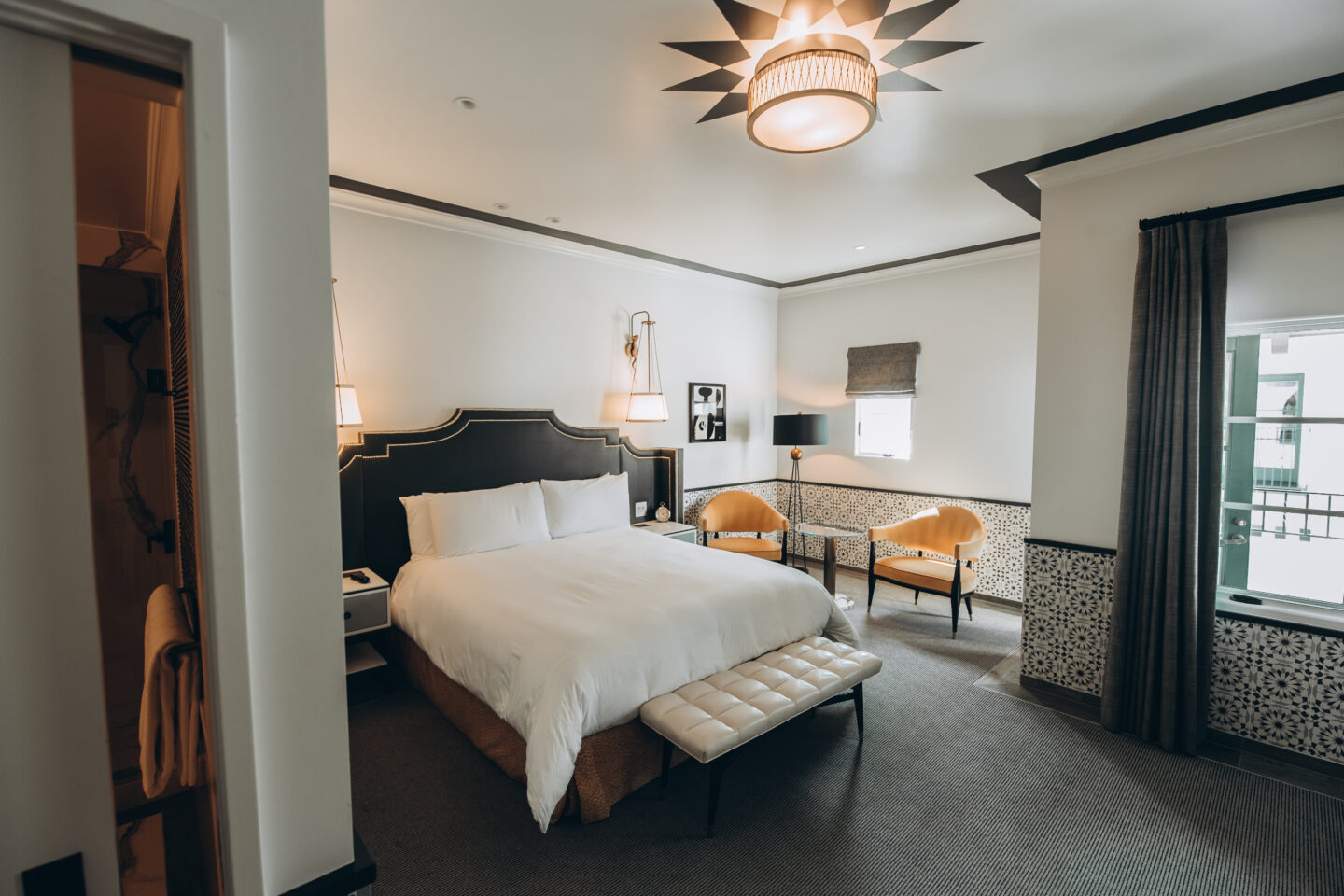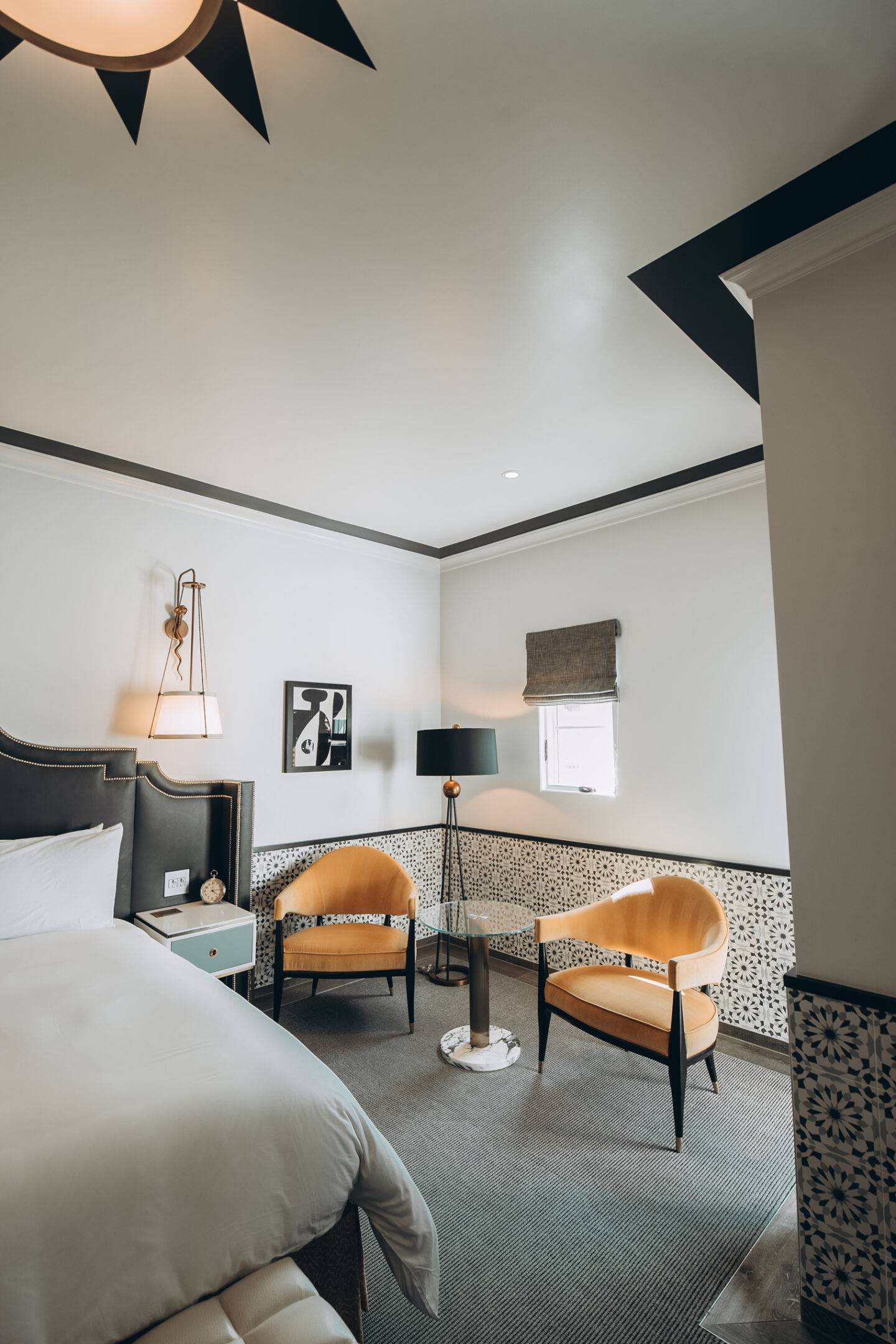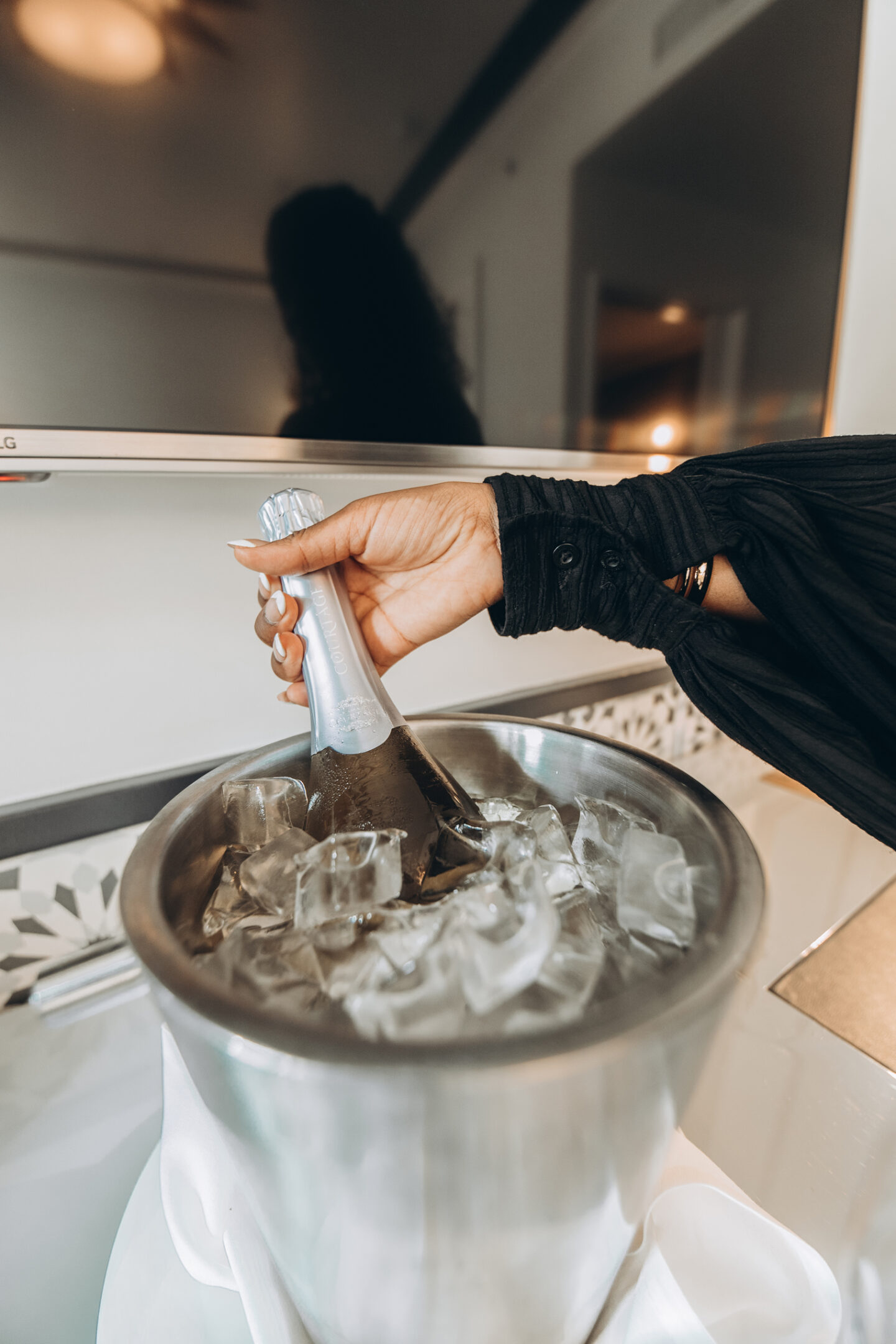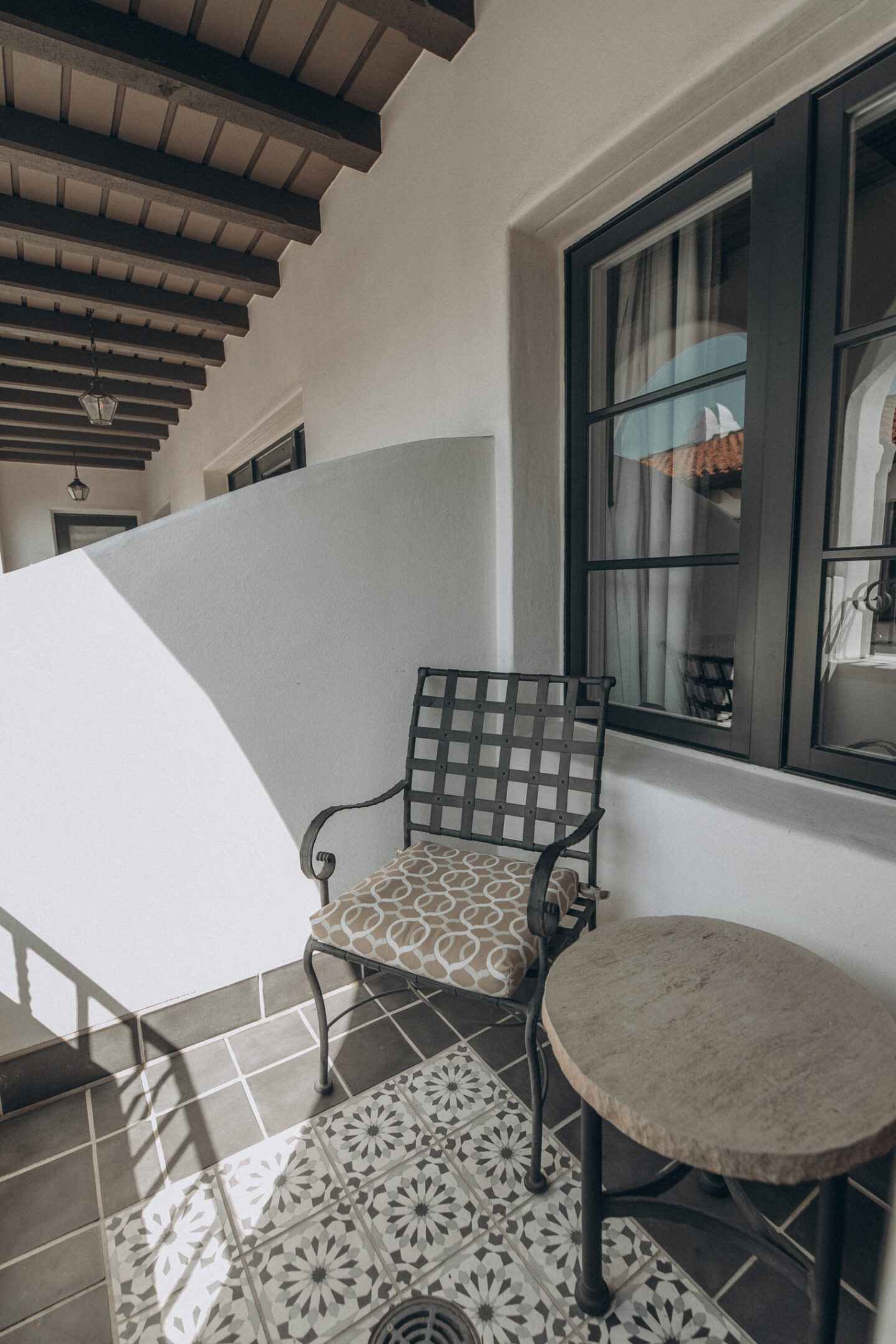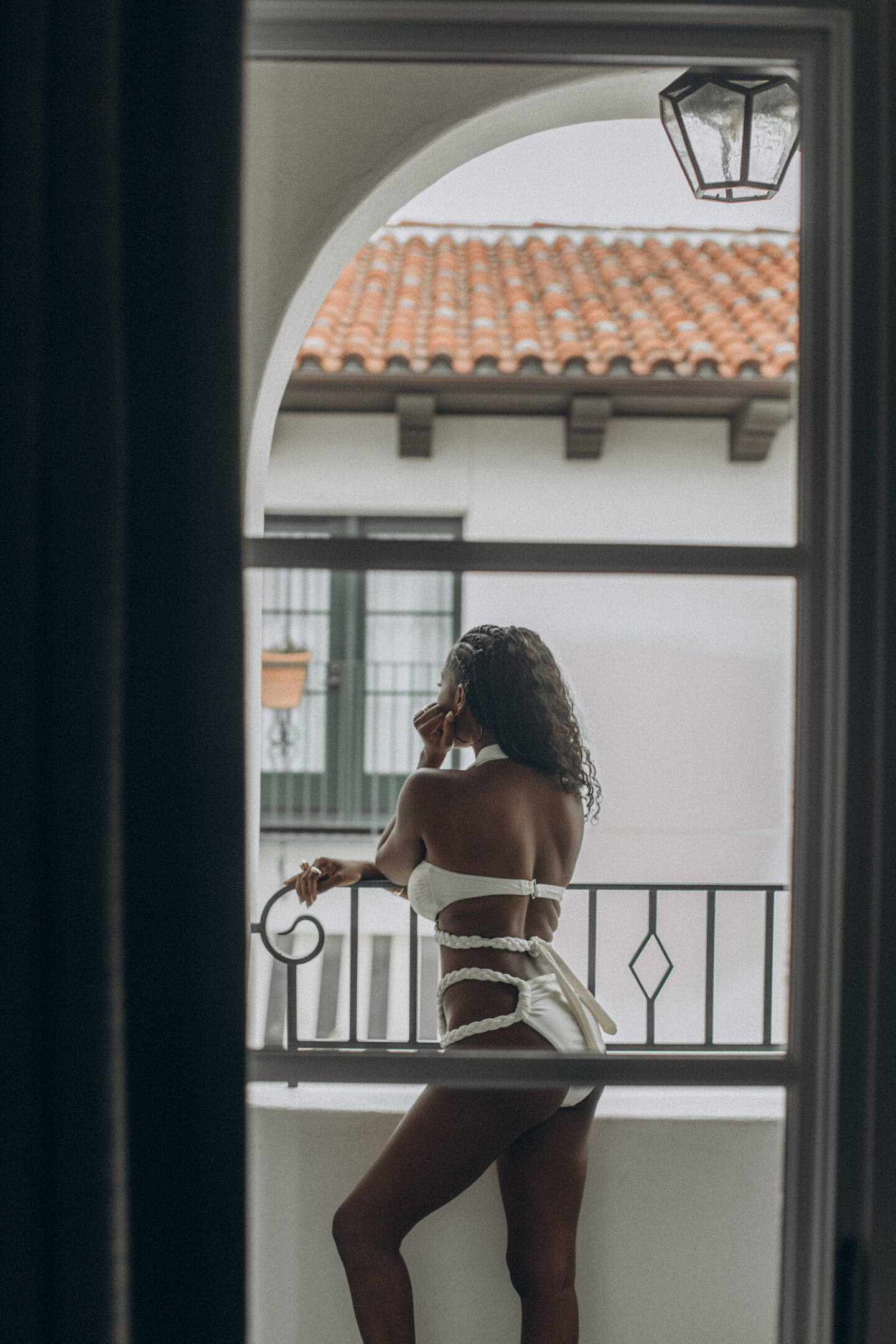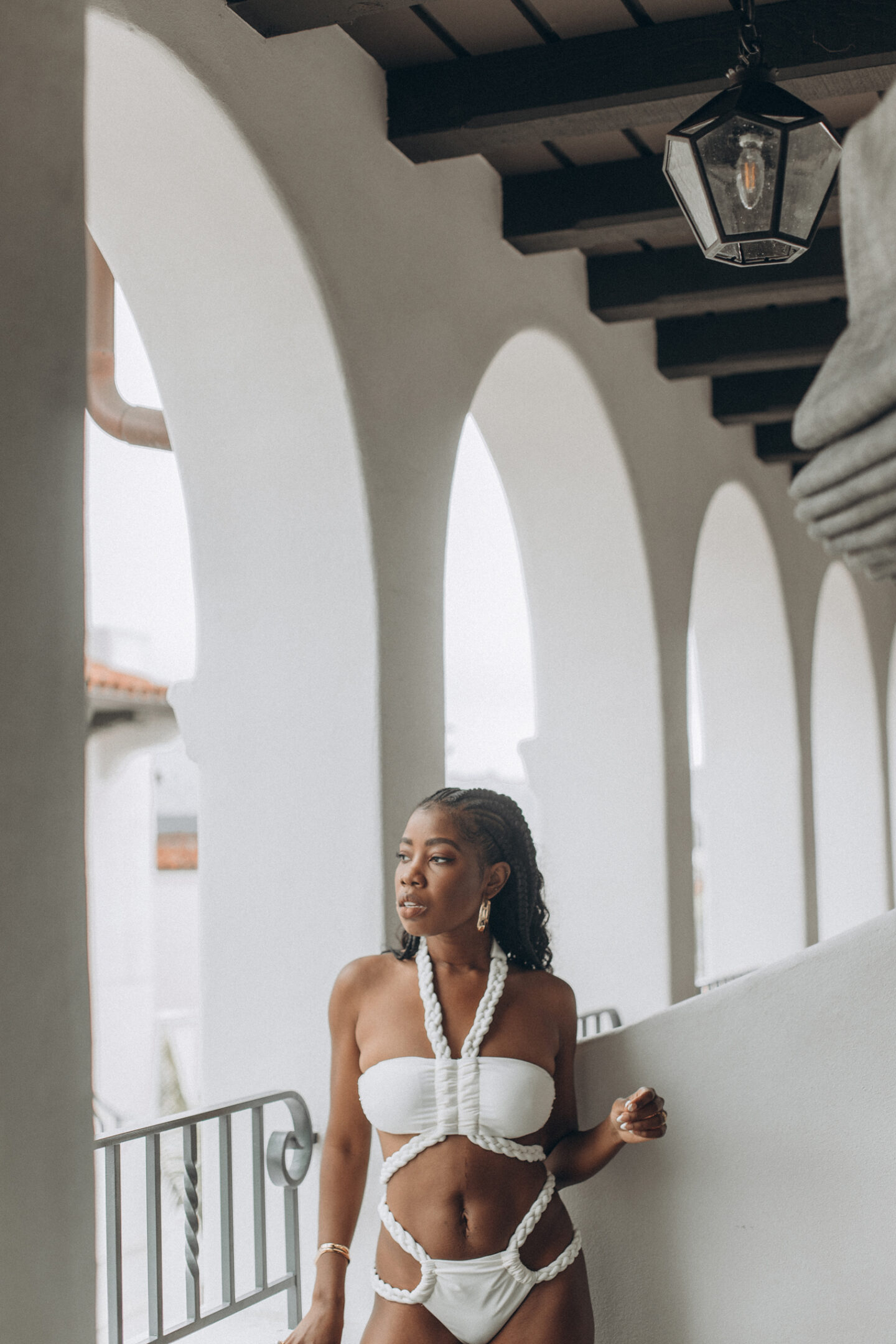 THE POOL AND ROOFTOP
As I mentioned, the pool was in the other building across the street from where our room was. In the same building is also the spa where I got a nice massage. The spa is small but all you need and a nice added touch to offerings. The rooftop has a very pretty view of the ocean and Santa Barbara hills. Santa Barbara tends to have this fog that clears later in the morning so if you're up early it will be foggy (In June it pretty much last all day). But I actually love the fog. There is a plenty of comfy seating on the top level where you can hang out and order food and when you walk down the stairs there is a small pool and more lounge chairs. If you come to Santa Barbara, with the beach being a stones throw away, it seems like the more obvious option but there nothing like lounging by a pool. They have attendants around that can get towels for you and who you can order food and drinks from. The menu is from The Goat Tree restaurant on site and has a little something for everyone.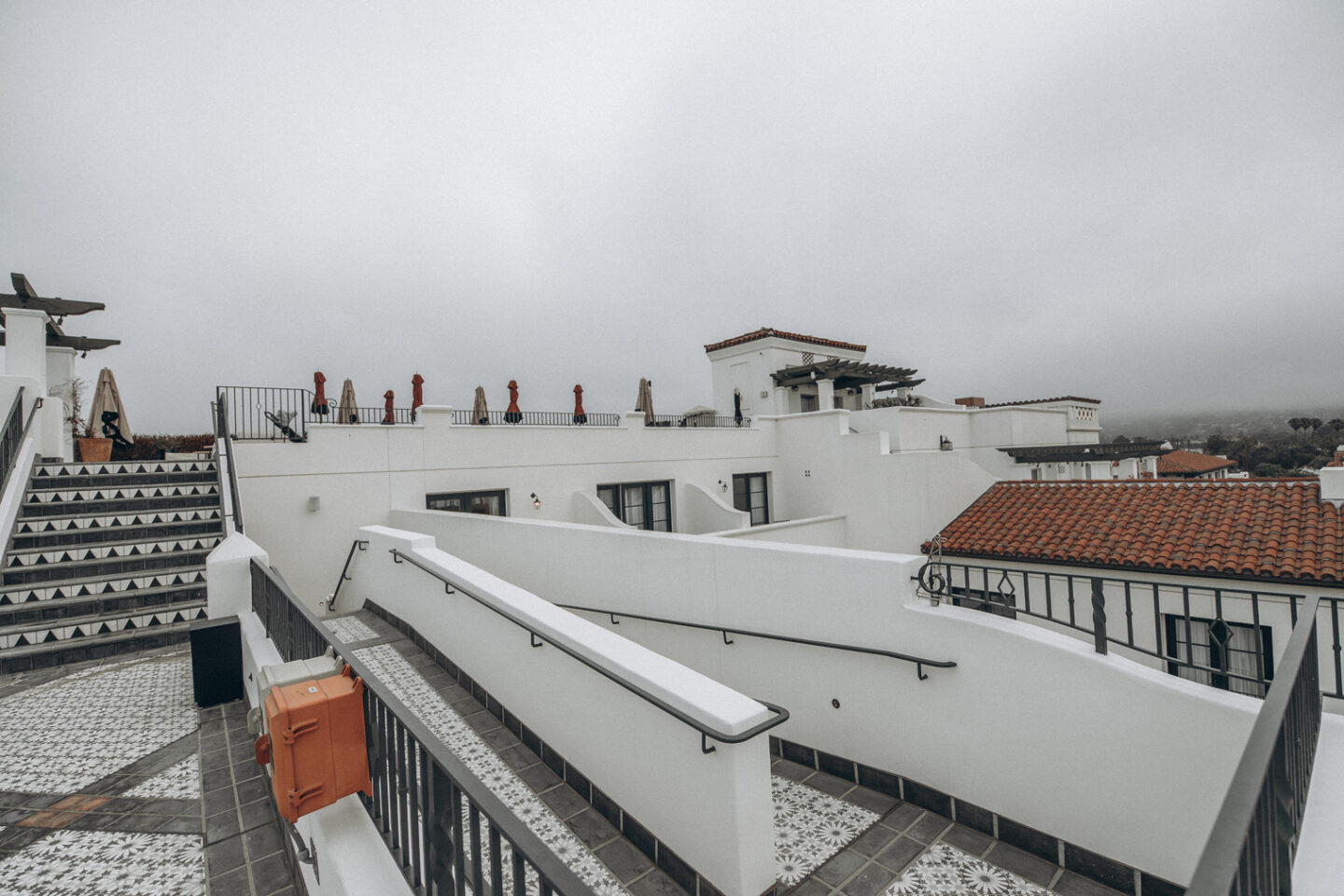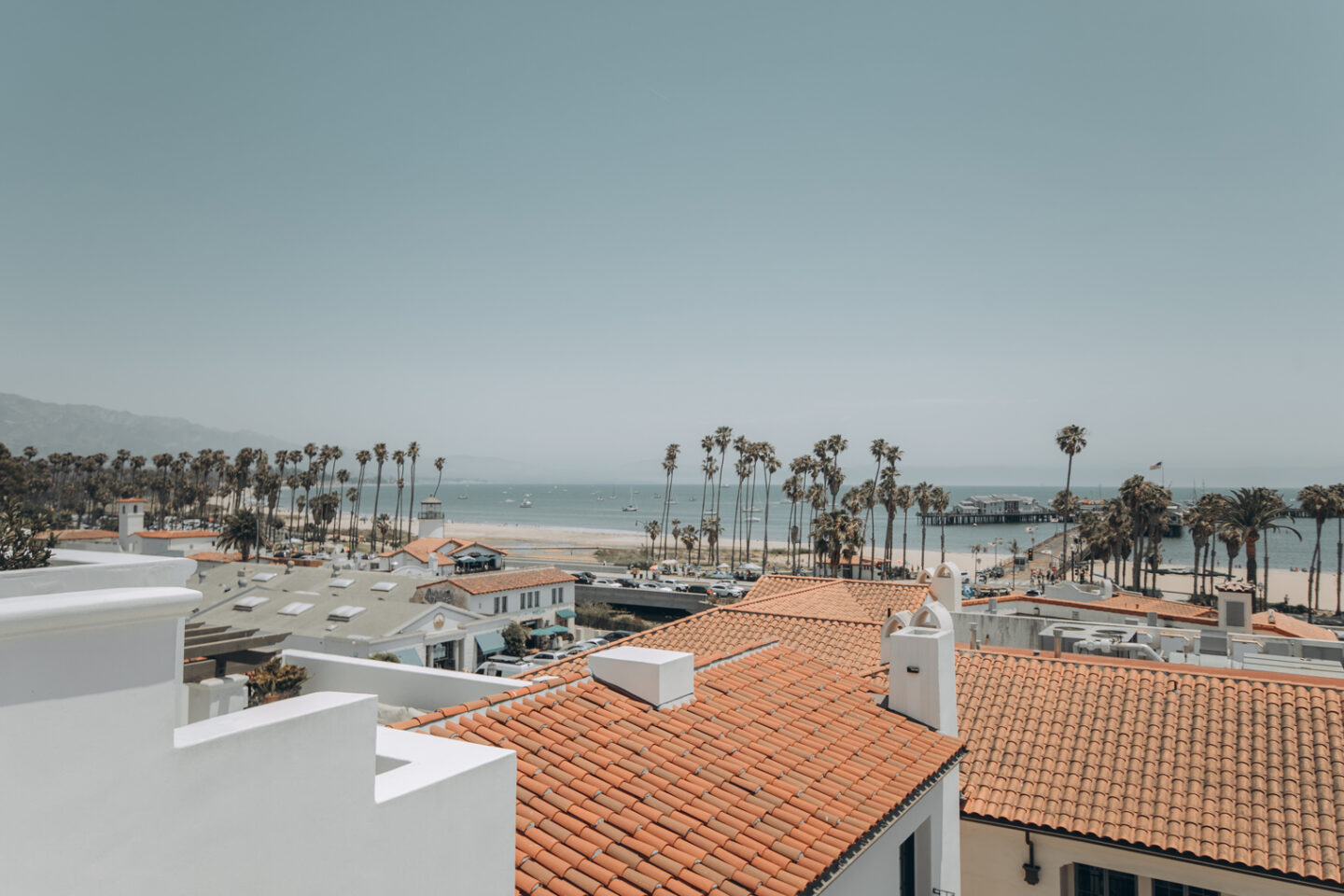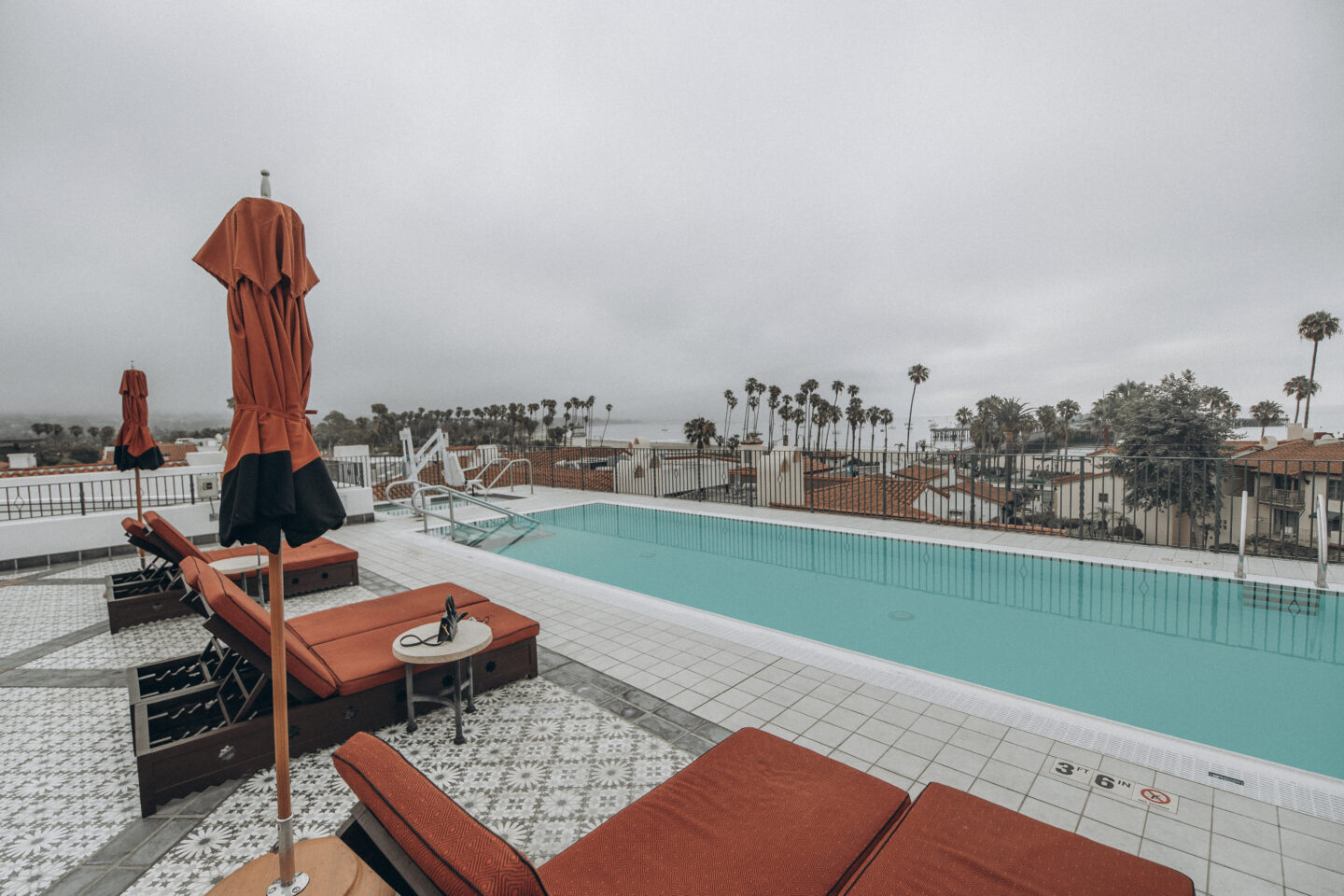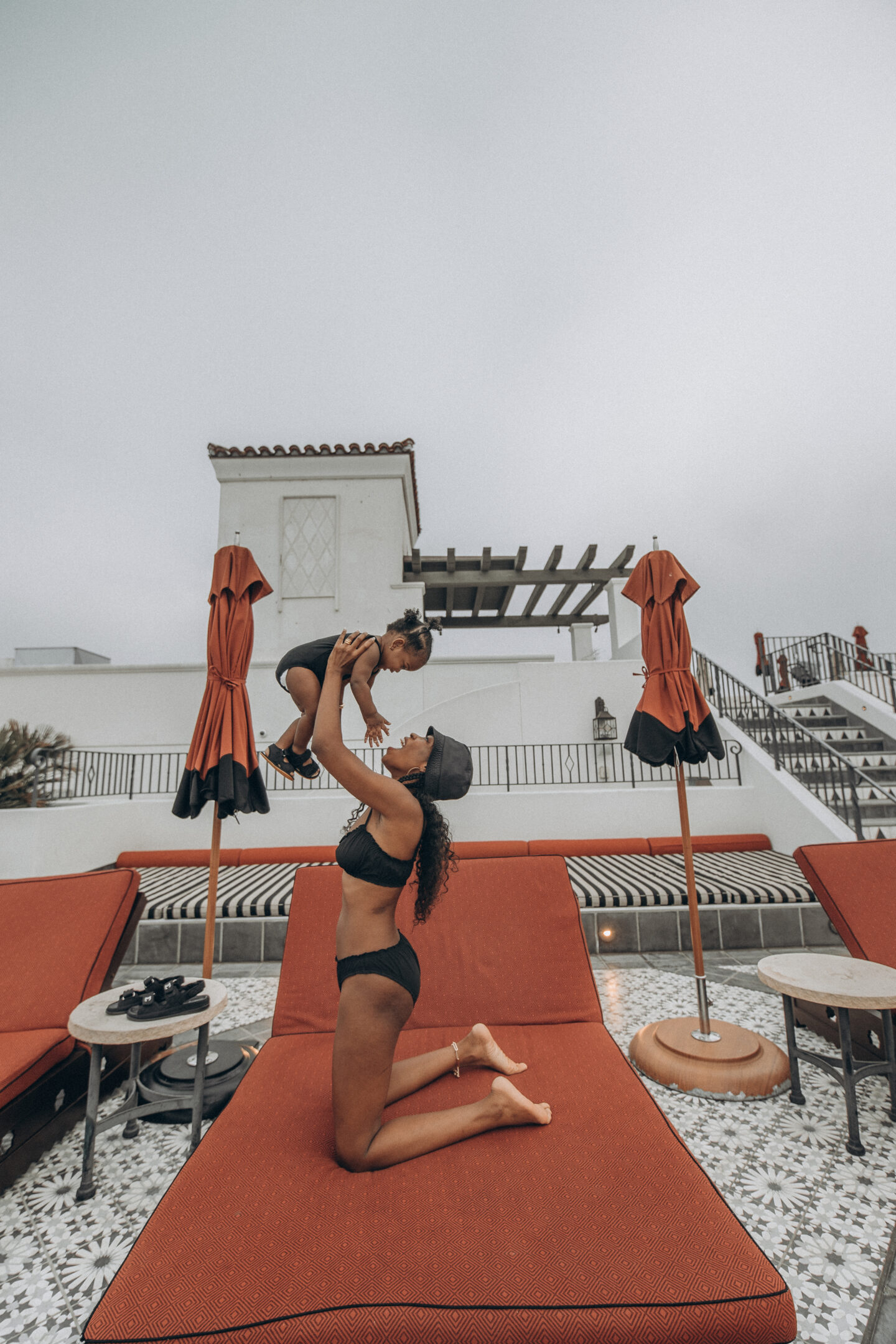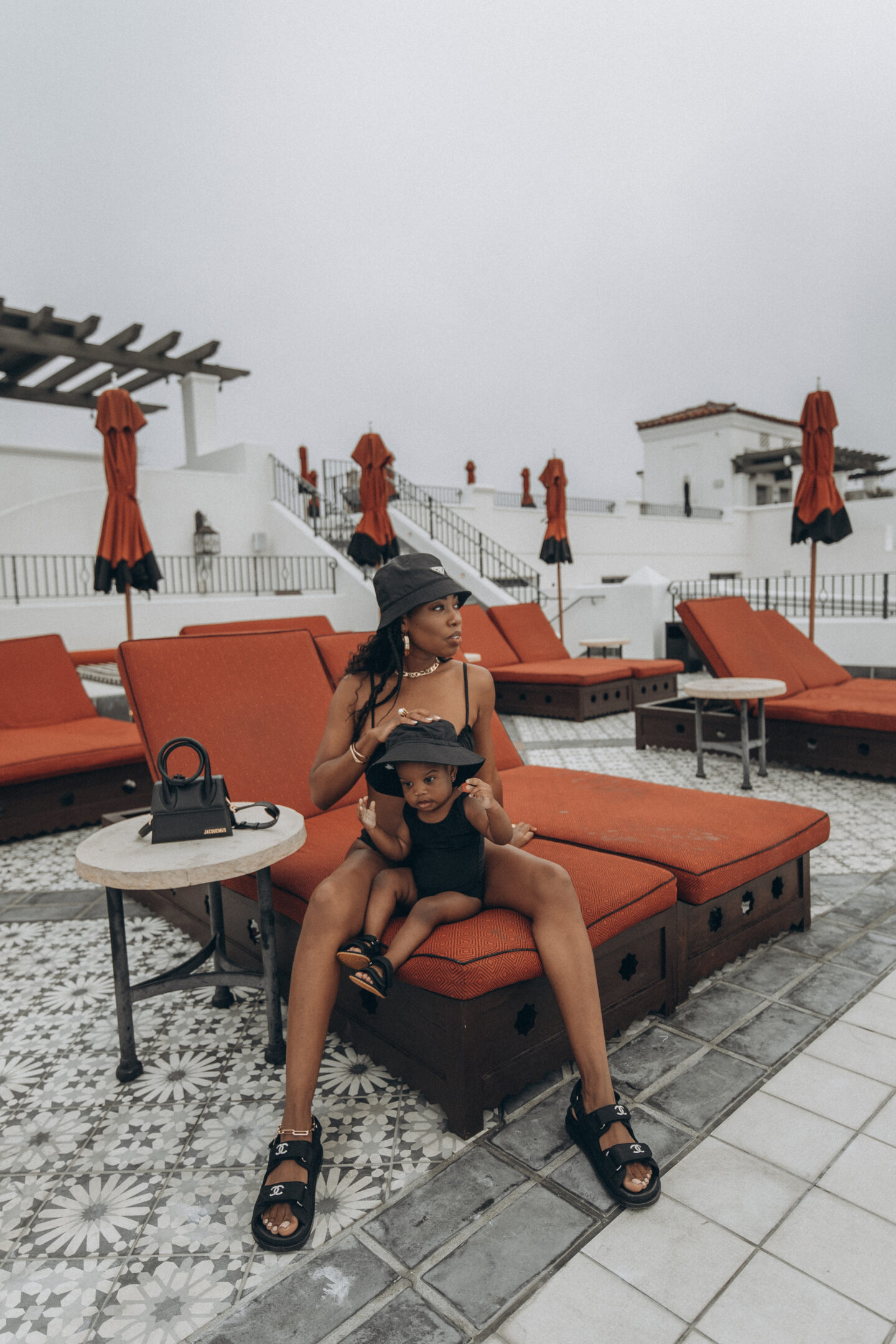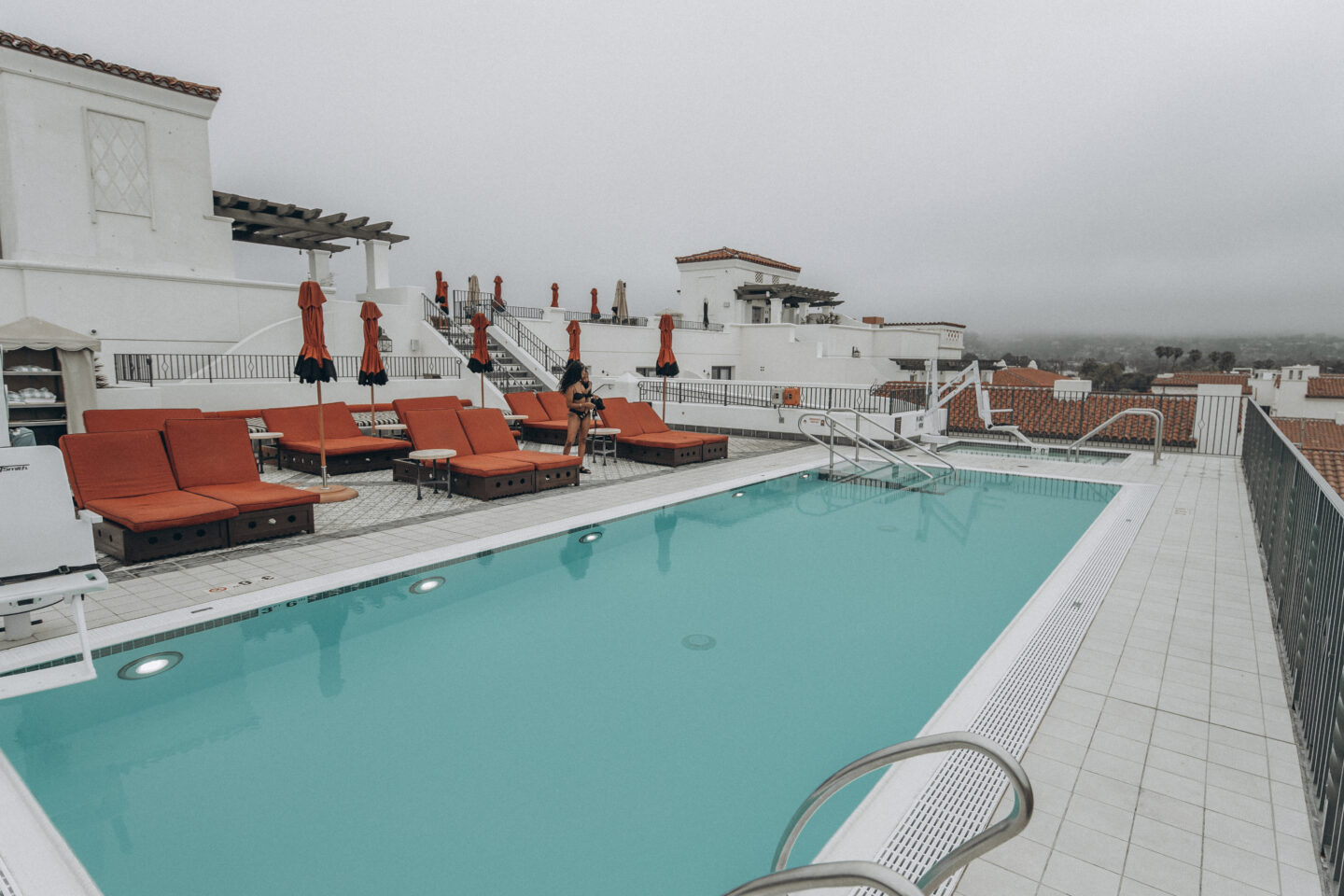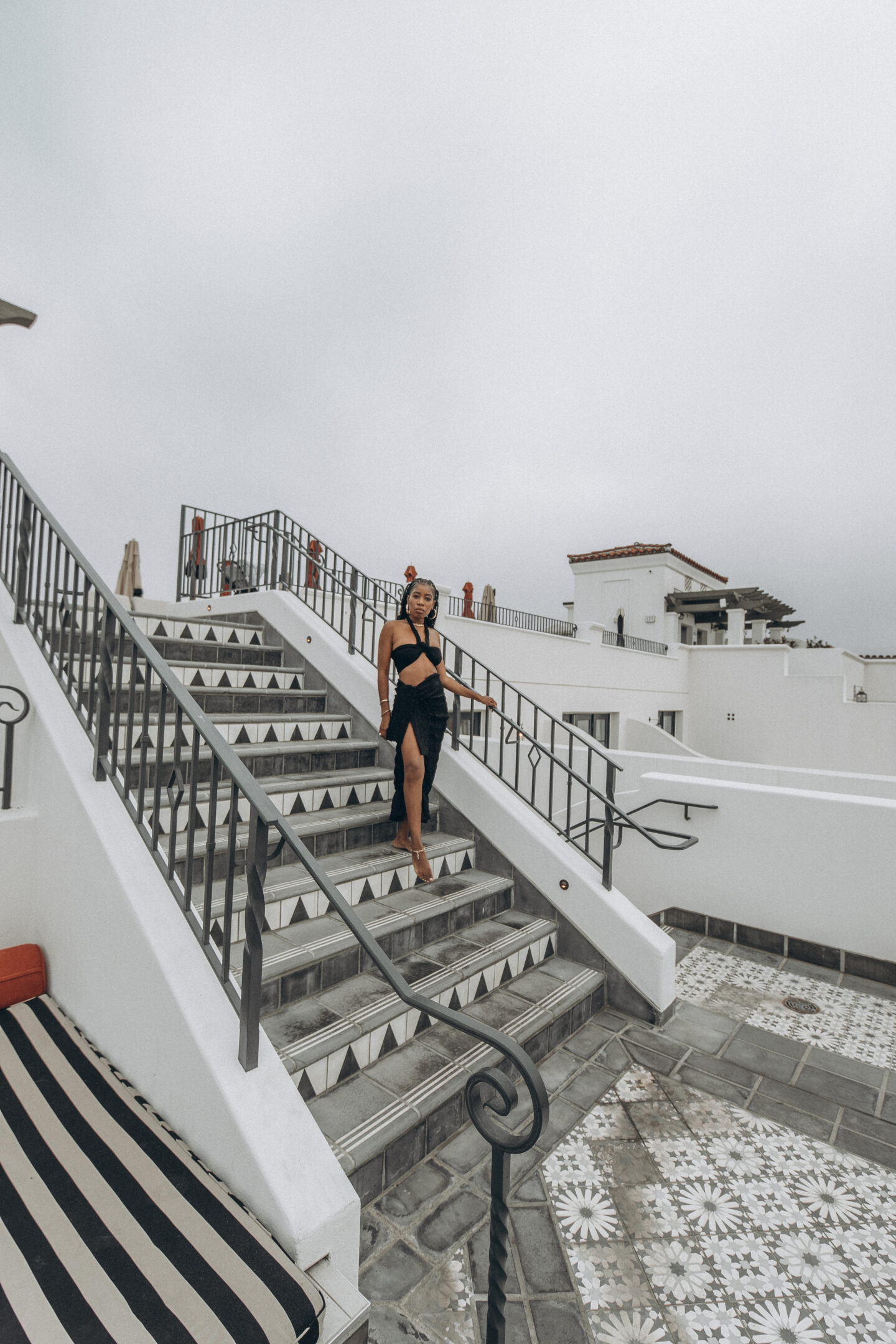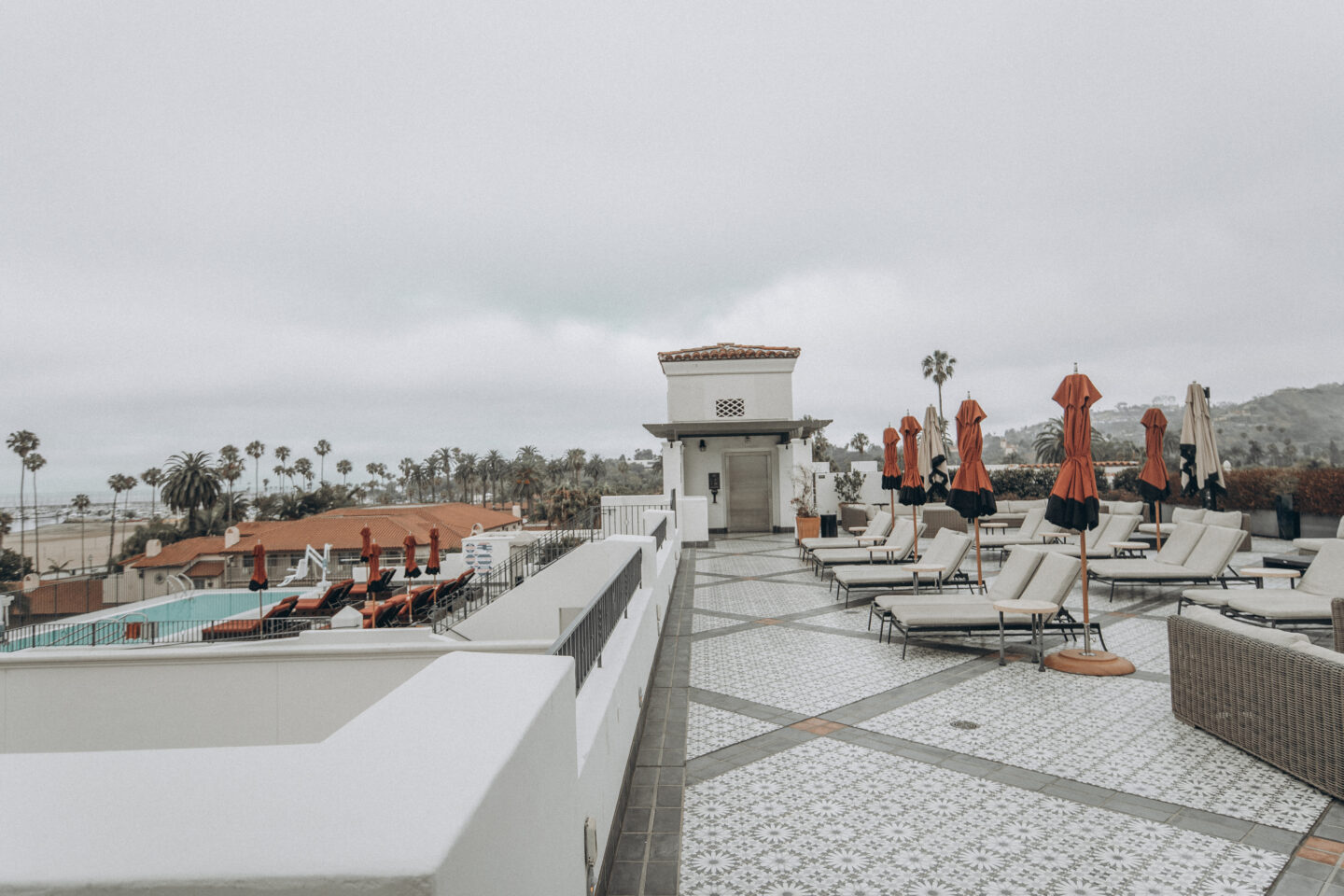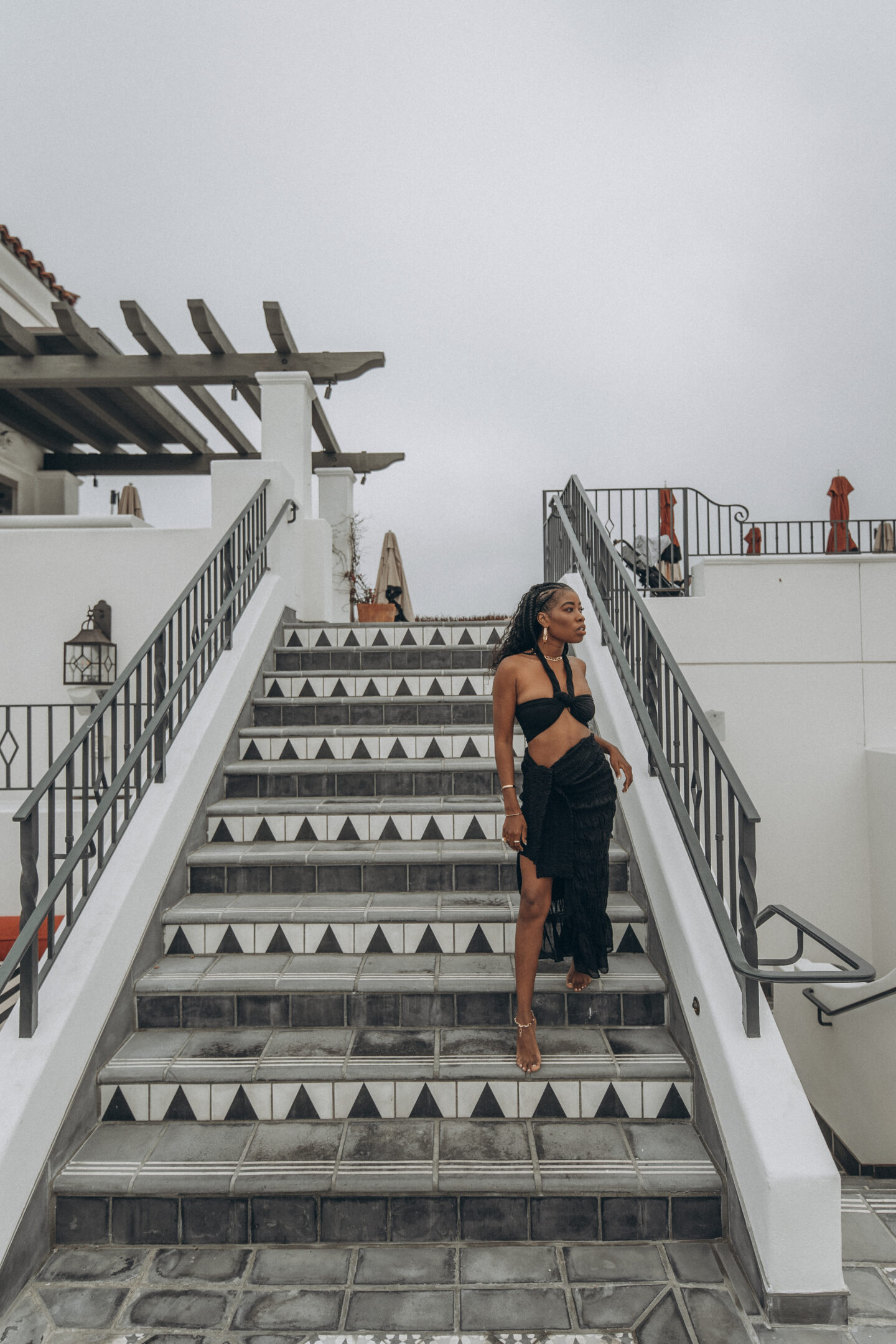 THE FOOD: THE GOAT TREE
The Goat Tree restaurant is the restaurant on site and it has some Moroccan style flavors on the menu. It's located across the street from the main building. I loved that the menu was not extensive and had good options for most people. We ordered the burger, fries, and lemon ricotta pancakes (which were soooo amazing, Danny still talks about them). I also got a yummy oat chai latte and some green juices. The hotel is situated right on the street with outdoor seating making it a nice place to people watch and enjoy the beautiful Santa Barbara weather.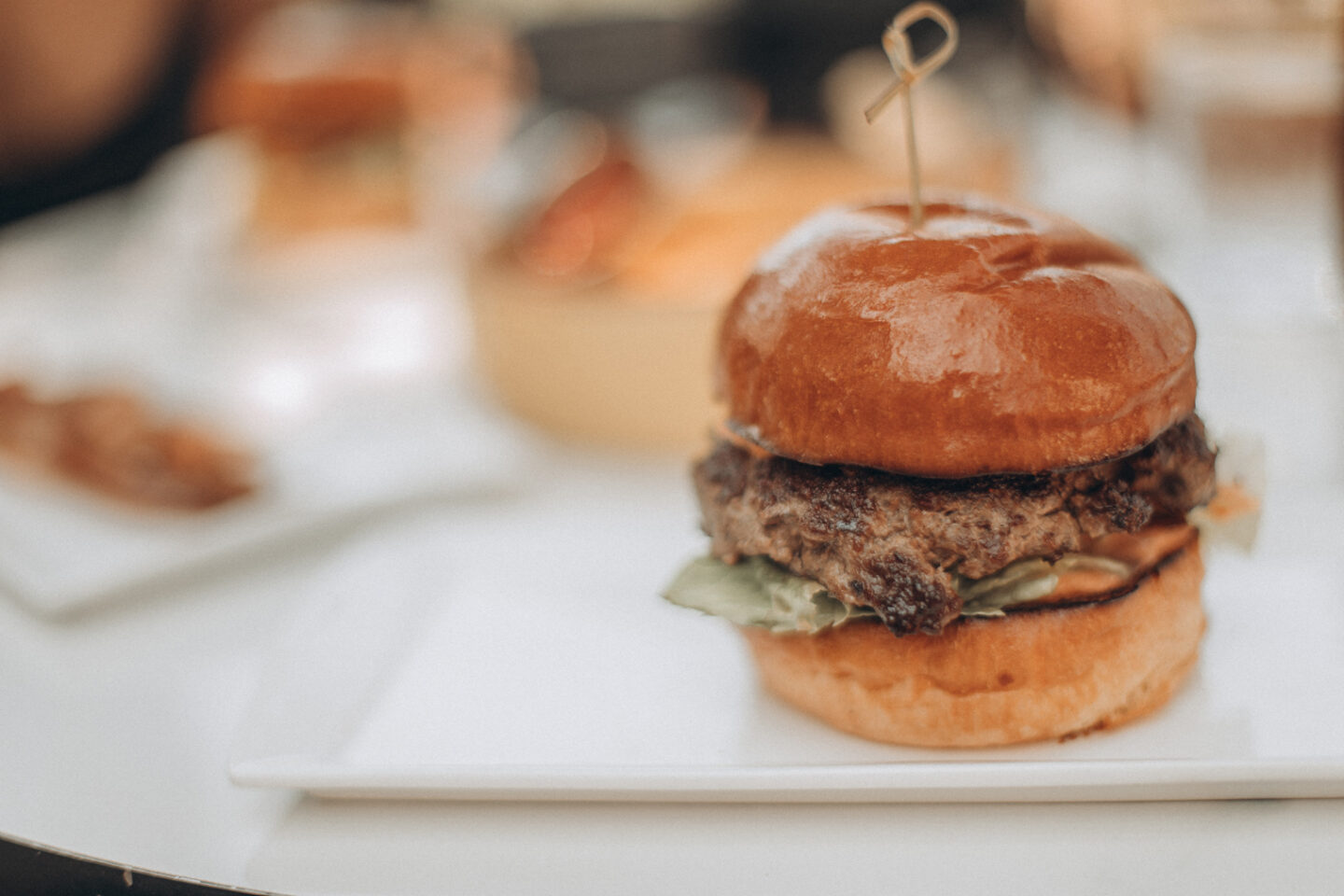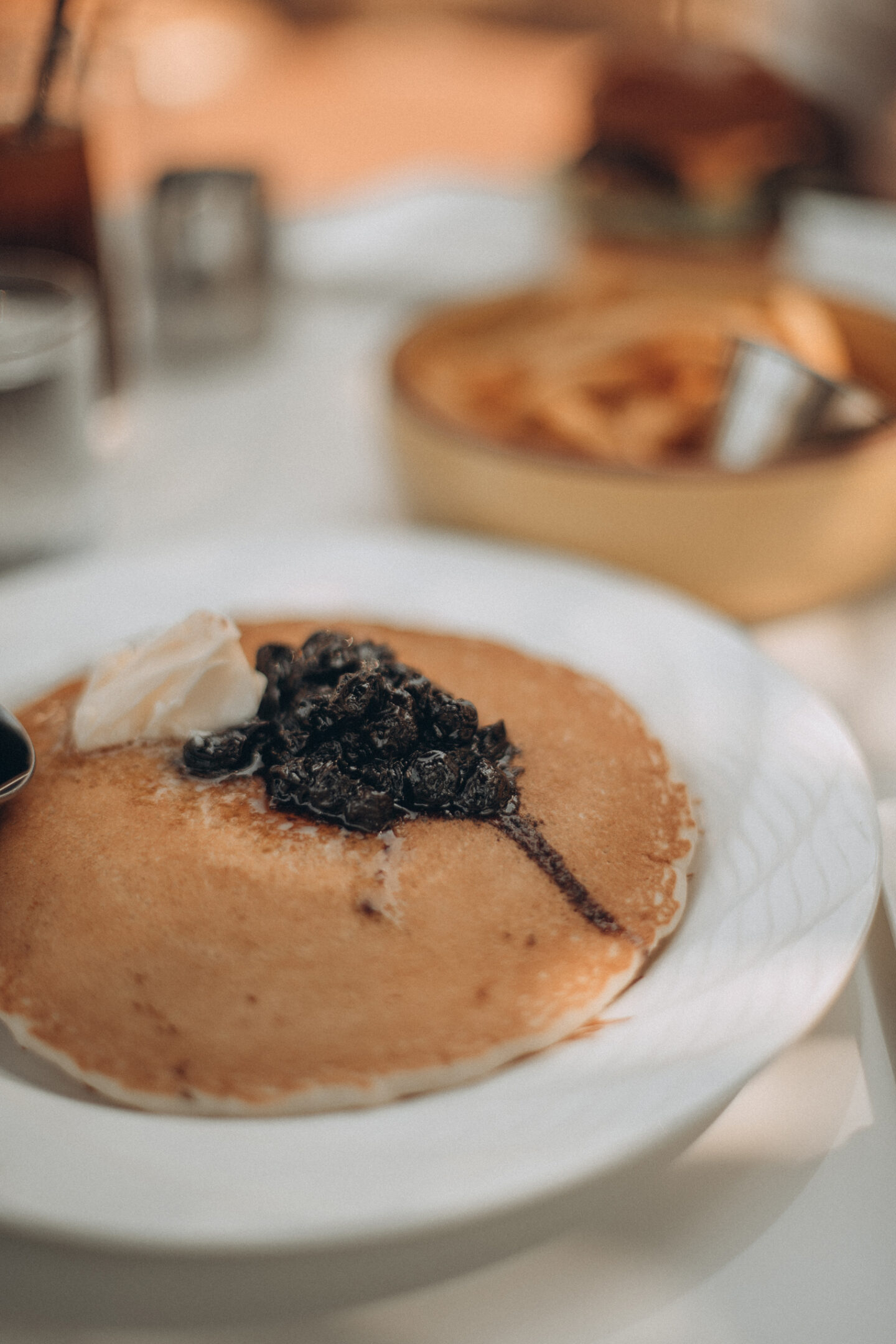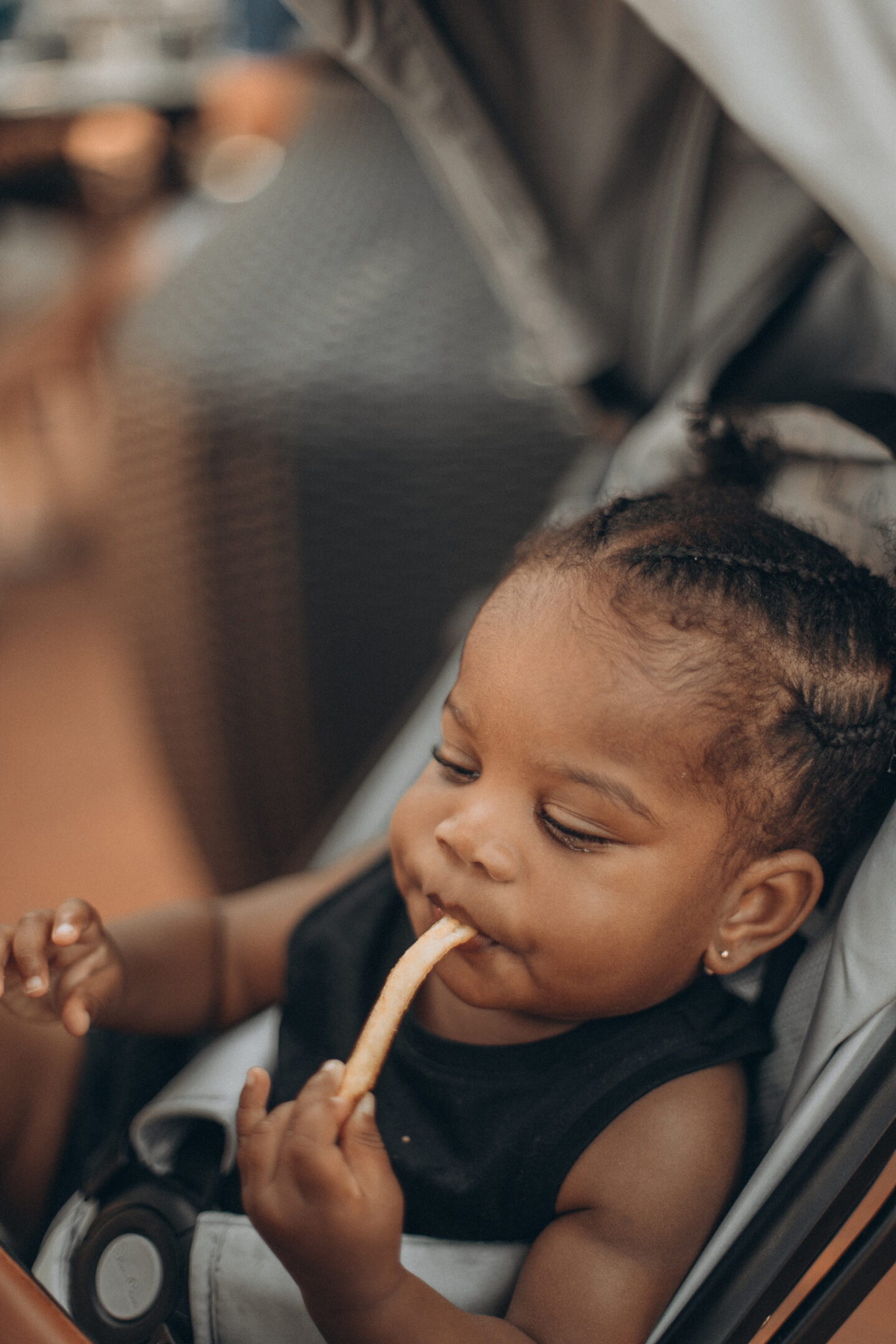 THE LOCATION
For my birthday all I wanted to do was relax so we didn't explore as much as we would have otherwise but as I mentioned, the hotel is in the heart of everything with bike rentals right next door so you really can explore so much of Santa Barbara without getting into a car. The hotel is situated very close to the beach but the beach nearby is not the nicest. You can easily take a long walk or bike to a nearby beach that's a bit nicer. Nevertheless they have a walkway along that beach that is pleasant we were able to take little stroll in the morning. I loved how it's lined with all these palm trees.
If you're looking to get into things and see as much as possible while visiting Santa Barbara without the hassle of traffic than Hotel Californian is your place. I wished I was more in the mood to explore when we visited because there is so much to do, see, and eat so close to the hotel. Last time I went to Santa Barbara with Danny we did all the activities and it was so fun. It really is such a beautiful fun city to explore.